Pezzimenti Trenchless boasts microtunnelling capabilities
Pezzimenti Trenchless continues to showcase its position as a leading trenchless specialist by completing works on two Victorian projects.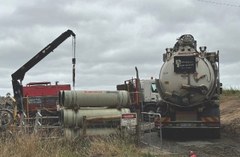 From tight residential streets, to managing households, pedestrians and traffic, the Mont Albert Level Crossing Removal and Korumburra Trunk Sewer projects were just some of the challenges Pezzimenti Trenchless faced. Director Joe Pezzimenti tells Trenchless Australasia that while the project was completed by January 2023, and despite the above challenges, the team ensured the "works were executed diligently and efficiently". "We were working in a tight residential street, which meant we had to manage households, pedestrians and traffic," he says. "This also limited footwork, which suited our equipment."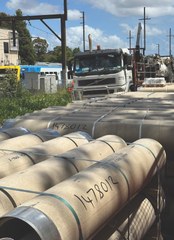 The scope of the Mont Albert Level Crossing Removal involved the installation of 245m of the 324 mm OD Hobas GRP jacking pipes.
The Pezzimenti Trenchless method ensures all types of pipes are installed efficiently, with Hobas jacking pipes typically used for larger bores requiring continuous ground support. For the Mont Albert Level Crossing Removal, as the railway was to be lowered at the location, a new sewer was required, which led to Harris Civil engaging Pezzimenti Trenchless to complete the pipe jacking works.
The lengths of the bores were 73m, 92m and 80m, installed at a depth from 5m to 8m through ground conditions of clay and siltstone. Joe says for the Korumburra Trunk Sewer upgrade project for Harris Civil, Pezzimenti Trenchless was engaged by South Gippsland Water to complete various works. The overall project scope comprised of approximately 172m of 900m gravity sewer that required microtunnelling.
Pezzimenti Trenchless installed a 618mm OD Superlit GRP jacking pipe with the bores measuring 74m and 98m. These were installed at a depth of 5m, through ground conditions of siltstone, which proved to be another challenge for the Pezzimenti team.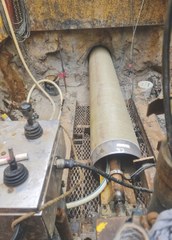 "The ground conditions of very hard siltstone were difficult to deal with, and ground water was encountered which required 24/7 dewatering," Joe says. "But we pride ourselves on maintaining the highest quality equipment and setting the standard for the industry when it comes to quality, care, and development.
"The dedication our team shows when it comes to completing a project, however big or small under any circumstance, in an efficient and effective manner, is why we've stood the test of time."
It was through this dedication that enabled the Pezzimenti Trenchless team to complete the works within three weeks. Since 1957, Pezzimenti Trenchless has positioned itself at the forefront of the trenchless industry through its laser-guided microtunnelling system.
Contact
Trenchless Australasia
Clemence Carayol
Editor
379 Docklands Dr,
VIC 3008 Docklands
Australia
Phone:
+61 3 9690 8766
Fax:
+61 3 9682 0044
E-Mail:
enquiries@primecreative.com.au
Internet:
To website