Perma-Liner Industries Announces the New UV LightRay LR3
Waterline Renewal Technology, Inc., a portfolio company of Behrman Capital, announced the launch of the new LightRay LR3 from Perma-Liner Industries, which incorporates the latest in UV trenchless technology – significantly reducing the curing time during installations.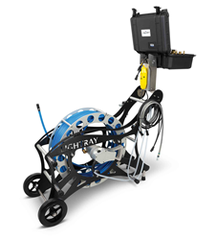 After many months of hard work and dedication from the engineering team, PLI is pleased to announce the launch LightRay LR3!
The primary goal during the redesign process was to create the most advanced patch repair and pull-in-place UV system available to the trenchless market today. Many customers were consulted for their feedback on the prior unit and provided valuable input for improvements on the LR3. Saving time, increased productivity, less manpower required in the field during installs, and less variability were key points of feedback in the development of LightRay LR3.
A modular design and enhanced electrical connections for rapid packer attachment and removal are among the key highlights. Transitions, cast iron, and vertical stacks can all be serviced by LightRay LR3 which easily navigates 45 and 90-degree bends. Designed, supported and built in the USA, the new LR3 comes with a 1-year warranty.
Chris Duda, Vice President of Sales and Marketing said, "I am very pleased with our latest new product release. Many of our customers provided their feedback to the engineering team, who did a tremendous job to incorporate – down to the detail – exactly what our customers were looking for in LightRay LR3. Curing Soon isn't just a tagline – it's now a reality with our new UV technology."
The LightRay non-VOC resin is pre-impregnated into the high-performance fiberglass liner and shipped ready to install for no-dig small diameter pipe infrastructure repairs. Once the install site is prepped, casting times in under 10 minutes can be achieved eliminating the risk of premature or prolonged curing times due to temperature variations.
Waterline Renewal Technologies (WRT), through its brands, is a leading provider of engineered products used in trenchless repair and rehabilitation of wastewater/stormwater infrastructure for municipal, commercial/industrial, and residential applications and provides a diverse portfolio of products and services through its brands APM, LMK, PLI, and LightRay.
Contact
Waterline Renewal Technologies, Inc.
Mac Canali
Director of Marketing and Communications
25 NW Point Blvd., Suite #510
IL 60007 Elk Grove Village
United States
Phone:
+1 708 790 5918
E-Mail:
mcanali@waterlinerenewal.com
Internet:
To website