OptionX launches AdaptX Mini, set to revolutionise trenchless technology
A key player in the drilling, tunnelling, and boring industry recently unveiled the AdaptX Mini at Bournedrill's Archerfield workshop in Queensland.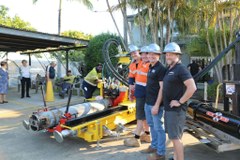 OptionX Group's groundbreaking modular drilling system is set to redefine industry standards and streamline project execution. "The AdaptX's modular drilling platform enables contractors to utilise a single machine for various drilling techniques," said AdaptX Mini inventor and OptionX Group CEO, Stuart Harrison. "In the past, they would have required different equipment for each specific method. With the AdaptX Mini or Maxi, contractors gain unparalleled versatility and efficiency." The innovative product was welcomed by an enthusiastic crowd, with the first machine about to head to an Edge Underground project. Designed with adaptability at its core, the AdaptX Mini was at the centre of discussion thanks to its performance and state-of-the-art features.
As the production phase commenced, Tom Chart, OptionX Group's Head of Manufacturing, played a pivotal role in overseeing the manufacturing process, ensuring that the AdaptX Mini meets the highest quality standards. "The AdaptX Mini has already undergone rigorous testing, showcasing its resilience in various conditions," said Chart. "We are excited to bring this innovation to the Australian market and have received significant international interest, as witnessed when we attended the Bauma Trade Fair in Germany last year."
Its versatility was the element that stole the audience's heart: from vacuum and slurry drilling to bed boring, auger boring, and pipe jacking, the AdaptX Mini effortlessly adapts to a wide range of drilling techniques, eliminating the need for multiple equipment setups. One of the key advantages of the AdaptX Mini lies in its ability to adapt to unexpected ground conditions, ensuring minimal project delays and cost overruns. Its capabilities extend beyond traditional drilling or tunnelling methods, offering additional functionalities such as pressure air vacuum, horizontal directional drilling, displacement pilot, canopy tunnel drilling, pipe assist, and pipe bursting. Contractors can easily adjust torque and speed to cater to specific project requirements, making the AdaptX Mini an indispensable asset for any drilling or tunnelling endeavour.
The AdaptX Mini also benefits from an impressive torque range of 10,000 to 80,000 ft lbs and a maximum thrust of 40 tonnes. It offers a compact yet powerful solution for drilling projects of varying scales. Its unrivalled adaptability, coupled with advanced engineering, ensures unparalleled performance and efficiency. Such a discovery takes a village, and the brilliant minds behind this invention were numerous: it's the result of a collaboration between the industry's finest minds, with Darrin Breedin, Adrian Sneddon and the team from Edge Underground testing the design with their crews to provide feedback during the development process.
Allen Henley, Senior Design Engineer at Bournedrill shared design expertise, and the OptionX Group team also sought input from external industry contacts, with Bert Fourie of Fourie Tunnelling Systems contributing. Stay tuned, as there will soon be a new addition in the AdaptX family: OptionX is working on the AdaptX Maxi, catering to larger-scale projects with its torque range of 17,500 to 180,000 ft lbs and a maximum thrust of 125 tonnes.
For now, Edge Underground has exclusive use of the AdaptX machine, but wider distribution is expected shortly. Choosing an AdaptX product is also choosing to shop locally and benefiting from the best customer service possible: with the AdaptX Mini manufactured locally in Bournedrill's Queensland workshop, customers can expect seamless support and quick response times for repairs or modifications. This localised approach ensures that any operational disruptions are swiftly addressed, minimising downtime and maximising productivity.