OptionX Group strikes deal with MTS Microtunnelling Systems
OptionX Group has expanded its offering to the drilling, tunnelling and boring industries by entering an agency agreement with the German company MTS Microtunnelling Systems. This agreement will see OptionX Group become the exclusive seller of MTS equipment across Australia and New Zealand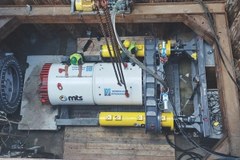 Along with selling the sought-after machines, OptionX Group will offer after-sales support and service for MTS, and stock critical parts for urgent repairs.
Bournedrill, one of the businesses within OptionX Group, is well-placed to support MTS equipment, having designed and manufactured drilling, boring and tunnelling equipment for almost 60 years. This level of service is rarely seen in Australia, with repairs on machines like this often calling for imported parts or mechanical experts to be flown in from overseas.
OptionX Group CEO, Stuart Harrison, says the industry has been crying out for more efficient local service. "There is an abundance of tunnelling work available in Australia at the moment, but often delays are caused by inadequate equipment or waiting for parts to arrive from overseas," says Harrison. "The goal of OptionX Group has always been to create more options for the industry, and this deal with MTS is just another solution we can now offer."
MTS Microtunnelling Systems has a strong reputation around the world and utilises the very best of German engineering. OptionX Group's Business Development lead, Jim Perry, says he expects the MTS machines to sell well in local conditions. "The MTS products have proven themselves around the world. The high praise we often see for German engineering is well deserved, and the quality of MTS machines is exactly what you would expect from Germany," says Perry. Perry is also the Managing Director of Tunnelcorp and says the backup support from OptionX Group will be a game changer.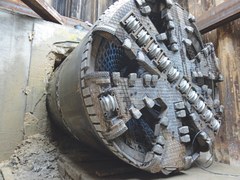 "Even the best equipment is subject to wear and tear, so being able to service machines appropriately and replace parts as required will extend the life of the equipment. This in turn will reduce delays and stoppages, which is an attractive option to contractors and asset owners alike," he says. "In Australia, it's often complicated to source replacement parts and complete repairs. Having access to Bournedrill's workshop and engineers means parts can be supplied when they are needed."
As the founder of Edge Underground, Australia's leading microtunnelling contractor specialising in sewer and water pipeline installations, Harrison also knows how important it is to work with reliable machinery. "MTS machines have a proven track record worldwide, and I'm excited we can now offer these machines to the Australian and New Zealand markets. These machines are built to handle ground conditions from soft formations below the water table to the hardest rock, but can also be used in other ground conditions," says Harrison.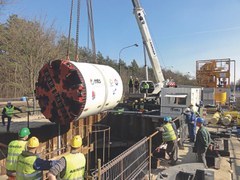 Another recent expansion of OptionX Group is the creation of PerforatorX, a joint venture between OptionX Group and German company, Perforator. Like the deal with MTS, this joint venture sees import delays eliminated and service wait times reduced by using OptionX Group's Australian facilities for manufacturing German-engineered drill pipes.
The last twelve months have seen OptionX Group come into its own as a complete package for the drilling, tunnelling and boring industries. The businesses within the group provide separate but related services, and the announcement of the deal with MTS rounds out what's on offer.