Ofwat Chief Highlights Priorities at Water Gathering
Ofwat's new interim chief executive has set out six key areas of focus to help drive change in water, telling industry representatives "we can't simply build our way out of the challenges in front of us".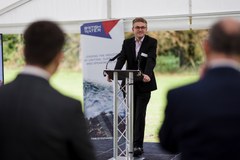 David Black was keynote speaker at British Water's Gather Together reception, the trade association's first in-person event since February 2020. Addressing the audience of British Water supply chain and water company members and other industry stakeholders, Black praised the resilience and achievements of the sector, which "has not stood still" through the Covid-19 pandemic.
Looking forward, he said the scale of change needed to address the effects of climate change, achieve net zero carbon, deliver for customers and the environment, while keeping bills affordable, was significant.
He said: "If we look ahead to 2050, we know a step-change in outcomes is required. We're looking to swiftly improve drought resilience and to reduce abstraction from over-stressed water sources, such as chalk streams, to reduce leakage by 50% or more, to drive down per capita consumption to 110 litres per day.
"It is going to require a water sector that delivers for customers, it needs to keep bills affordable, and put the environment right at the heart of everything it does and that's going to require transformational change for all of us."
Black said while the sector was making major investments in infrastructure projects such as new reservoirs, water transfer and reuse schemes, a bigger challenge would be to "change the culture of the sector and ways of working", outlining what he believed were the key focus areas to deliver change at scale:
Large-scale consumer behavioural change - in water consumption and disposal of materials such as wet wipes and cooking fat. 
Community engagement and nature-based solutions – bringing these areas from the margins of the sector to the mainstream.
Smart networks and open data - harnessing technology to operate and maintain networks intelligently
Renewable energy revolution of wastewater – making better use of valuable resources
Long-term and adaptive planning for water resources - building in incremental steps, recognising the value of both delaying decisions and taking long-term decisions now, and looking beyond water to other sectors.
Innovation – becoming more effective in turning ideas into action, efficiently and at pace.
Black went on to outline how Ofwat is also adapting, to align with the sector's transformation.
"The traditional focuses on investment, efficiency and improving asset health will remain important. The transformation will lie in working effectively with customers and communities; the innovation in enhancing and harnessing the power of digital and tech."
He highlighted the regulator's £2.8 billion green recovery programme, announced in May 2021, the launch of industry collaboration RAPID to promote an integrated approach to the development of water resources, the direct procurement for customers (DPC) project delivery model and the £200 million innovation fund as examples of new initiatives.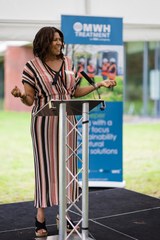 Finally, Black spoke about the transformation he expects to see within the water supply chain, with a more rapid move towards implementing digital smart technology, nature-based solutions and catchment management programmes likely to change what water companies require from their suppliers.
He said: "Covid has shown we can be flexible and we can adapt at pace. We need to take the same approach as we tackle the challenges ahead. We encourage you all to seize the opportunities, to challenge thinking, to innovate and to be part of the solution."
Gather Together took place on 16 September 2021, at Woodland Grange, Leamington Spa, welcoming approximately 130 guests.
Thanking Black and attendees after the event, British Water chief executive Lila Thompson said: "After a difficult 16 months of quarantine, self-isolation, lockdowns, and restrictions, we were so pleased to welcome the British Water community to our Gather Together outdoor reception. It was a pleasure to reconnect and share business insights. British Water is committed to harnessing the power of collaboration to and deliver tangible, positive change in our industry through events and initiatives."