New Rapid-set Cement MC-Floor TurboCem Offers Intrinsic Versatility
With its new fast-hardening cement MC-Floor TurboCem, MC-Bauchemie has hit the market with a truly one-for-all solution. An advanced ternary binder, this product is suitable for screeds that need to be both dimensionally stable and ready for covering at an early stage – whether for residential, commercial or industrial duty.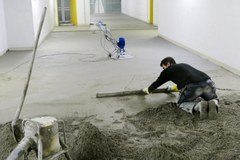 MC-Floor TurboCem is characterised by very good workability, low material consumption levels, high early and final strengths, low shrinkage and minimal stress development.
Fast-setting cements cure particularly quickly and are therefore especially suitable for screed repairs and general applications in which rapid load-bearing capacity and early overlay are required.
MC-Floor TurboCem, the new rapid-set cement from MC-Bauchemie, combines extended working time with fast, stress- and deformation-free hardening, while also enabling rapid accessibility and overlay readiness.
Multiple application possibilities with fast coverability
MC-Floor TurboCem is highly versatile and can be used indoors and outdoors both as a standard quick-acting cement for residential construction and as a special-purpose rapid-set cement for the production of industrial screeds or high-strength utility screeds. It is also suitable for damp rooms and heated screeds. Depending on the requirements, this one-for-all product can be effectively metered to produce precisely the desired screed formulation.
Thus offering a major advantage for screed layers, the new fast-hardening cement from MC-Bauchemie greatly facilitates handling while also reducing complexity in terms of storage, transport and, in particular, application variability. As less cement is required per screed mixture, using MC-Floor TurboCem can also lead to cost-efficiencies in comparison to common quick-acting cements.
Since the advanced ternary binder chemically binds considerably more water, only a small part of the mixing water used needs to evaporate. That means that, even under critical environmental conditions, overlay readiness can be effectively targeted without problem within the usual timeframe from 3 to 14 days.
For example, MC-Floor TurboCem offers a working time of ≥ 60 minutes for grade C35-F5 screeds, with walk-on accessibility after 16 hours and overlay or coating readiness after 7 to 10 days. And in the case of a grade C50-F7 screed, it offers a working time of ≥ 45 minutes, walk-on accessibility after 12 hours and overlay or coating readiness after 3 days.*
Very good application and low-shrink properties
While common quick-acting cements are often difficult to use – the screeds produced with them tend to "stick" and are usually more difficult to level – MC-Floor TurboCem offers excellent workability. And the raw material composition of this ternary rapid-set cement also facilitates the production of particularly low-shrinkage screeds.
This is especially essential in order to reduce any stresses that could otherwise cause the screed to curl or crack – be it in sloping screeds with widely varying thicknesses, screeds of exceptional thickness such as bonded screeds over 5 cm, large areas screeded without joints, or where the layout geometry is unfavourable. Without such a low-shrinkage solution, problems may arise especially with the early laying of large-format tiles or a fully bonded parquet floor.
*All values indicated relate to an air temperature of 10 °C and a relative humidity of 80 %.
Contact
MC-Bauchemie Müller GmbH & Co. KG
Saki M. Moysidis
Chief of PR & Communication
Am Kruppwald 1 - 8
46238 Bottrop
Germany
Phone:
+49 2041 101 640
Fax:
+49 2041 101 688
E-Mail:
saki.moysidis@mc-bauchemie.de
Internet:
To website