New Launch: UNITRACC Module "Coding of Damage (Findings), Causes, and Consequences of Damage"!
New e-learning module of the course BE-07 Investigation and Inspection of Sewers and Pipelines now available on UNITRACC!
Summary of the Module
Investigation is the first of four basic measures in the context of integral urban drainage and sewerage management. It aims to provide the basis for assessing the performance of drain and sewer systems. The results obtained will serve as proof of complying with due diligence obligations and, in particular, as a basis for planning all operations, maintenance, and rehabilitation activities.
This module builds on the module Application of Coding Systems Using the Example of EN 13508-2 and introduces the process of coding defects for sewers and drains. In great detail, it presents the causes and consequences of defects and, in some cases, the defect mechanisms. It is part of the more extensive online training course BE-07 Investigation and Inspection of Sewers and Pipelines that will launch by the end of 2023.
The e-learning material consists of over 200 pages showing 223 images and 8 videos. 
The net learning time is approx. 10,5 hours.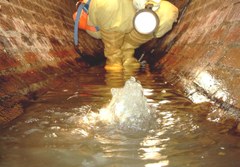 Click here for Coding of Damage (Findings), Causes, and Consequences of Damage!
Learning Goals
Application of the EN 13508-2 coding system
Classifying defects
Identifying and causes and consequences of defect


Costs
Courses (incl. Certificate): 700 €
UNITRACC Knowledge Portal for Enterprises: 150 € p/m

Time and Place
Distance learning (online)
Flexible, extra-professional (part-time, full-time)
Target Group
Engineers

Technicians

Technical staff & executives
Recommended Qualification
B.Eng / B.Sc. or Bachelor Professional's degree with two years of working experience in civil / environmental engineering.
Certificate
Completion certificate for passing course exam of BE-07<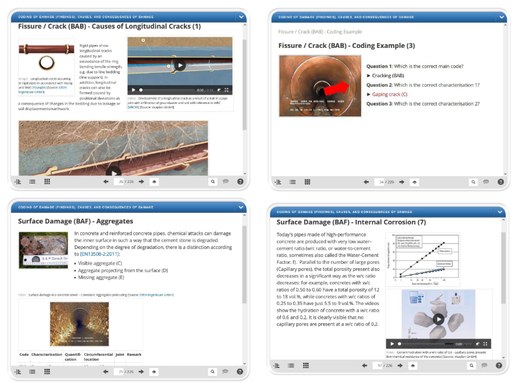 Content
Main codes of EN 13508-2
Deformations (BAA)
Fissure / Crack (BAB)
Break / Collapse (BAC)
Defective Brickwork or Masonry (BAD)
Missing Mortar (BAE)
Surface Damage (BAF)
Intruding Connection (BAG) / Defective Connection (BAH)
Intruding Material (BAI)
Displaced Joint (BAJ)
Lining Observations (BAK)
Defective Repair (BAL)
Weld Failure (BAM)
Porous Pipe (BAN)
Soil / Void Visible (BAP)
Roots (BBA)
Attached Deposits (BBB)
Settled Deposits (BBC)
Ingress of Soil (BBD)
Other Obstacles (BBE)
Infiltration (BBF)
Exfiltration (BBG)
Vermin (BBH)

UNITRACC Portal for Enterprises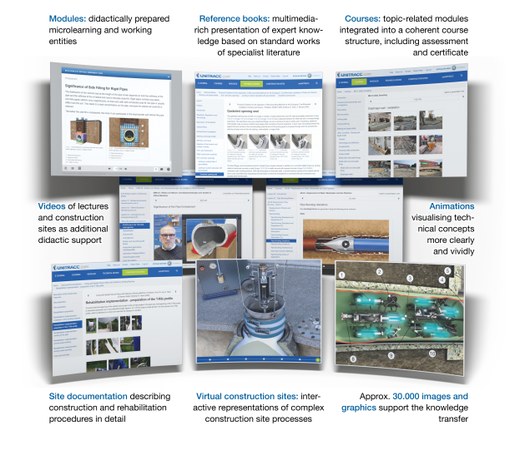 UNITRACC is an
e-learning, information, and working platform
for underground construction. It has been providing
online training courses
to customers - who are mainly public agencies, engineering offices, higher education institutions, and skilled individuals - since 2003. The
UNITRACC Knowledge Portal for Enterprises
offers digital access to all
courses
,
modules
,
construction site documentations
, and
technical books
about the rehabilitation and maintenance of drains and sewers for a monthly fee of 150 €. Topics include water and wastewater pipeline construction, rehabilitation, management, and maintenance. They cover a huge variety of trenchless construction and rehabilitation technologies such as
utility tunneling
,
microtunneling
,
pipe bursting
,
lining
with
close-fit pipes
, lining with
continuous pipes
, lining with
spirally-wound pipes
, lining with cured in cured-in-place pipes
(CIPP
),
injection
and
sealing
processes as well as
open cut
method.
Registration
is free of charge.
Click here
to start the booking process.

Let's discover the underground!
Contact
visaplan GmbH
Jasamin Teuchler
Content & E-Learning Manager
Konrad-Zuse Str 6
44801 Bochum
Germany
Phone:
+49 234 5167 215
Fax:
+49 234 5167 109
E-Mail:
jasamin.teuchler@visaplan.com
Internet:
To website