Mullane rehabilitates heavily deteriorated stormwater pipelines
Mullane once again proved why the company is an industry leader in pipeline solutions with a relining project on the mid north coast of New South Wales.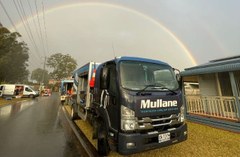 The company shared snippets of the project on its LinkedIn account. "A super happy client with several 450mm stormwater pipelines renewed and ready for another 50 years of flow," the team said. On this project, Mullane carried out a UV cured cured-in-place pipe relining on five pipelines that were heavily deteriorated.
Mullane was contracted to carry out some storm water condition assessment works in a residential complex. "Our team proceeded to Jet clean and CCTV inspect the storm water network – sizes ranging from 375mm up to 750mm," said Operations Director Luke Woodward.
"Upon review of the footage at our head office on the Central coast of New South Wales, it was identified that six of the 450mm AC storm water pipes were in very poor condition with large roots entering the joints, missing rubber rings, cracks and deterioration of the inner walls, one with a large collapsed section of pipe." Woodward said the Mullane team communicated closely with its client and explained the relining process, necessary for this the project.
"We explained that we would be able to carry out these rehabilitation works without disrupting the local residents or impacting the lawns and gardens," he said. "Our client was excited about this and gave us the green light to proceed." Woodward said the site team's detailed planning allowed them to prep, clean and install all six of the lines in four days.
"This included excavation of the collapsed section, removal of the broken pipes, installation of two patches to prevent the liner from bulging when it inflated at the location of the missing pipe along with a full clean-up of the site and final CCTV inspections," he said.
"Our client was delighted with the result and we are now working together to create a proactive maintenance program for the sewer system within the complex." Mullane's motto is loud and clear: "trenchless or civil, we have you covered with the right solution for any pipeline issues".
"At Mullane, our people come first and through great planning and delivery our team members were home on Friday afternoon to see their families," Woodward said. He also thanked Mullane's installation partner IMPREG for support on the project. "Special thanks to IMPREG for the liner supply and UV hire, for supporting us on this project," Woodward said.
Contact
Trenchless Australasia
Clemence Carayol
Editor
379 Docklands Dr,
VIC 3008 Docklands
Australia
Phone:
+61 3 9690 8766
Fax:
+61 3 9682 0044
E-Mail:
enquiries@primecreative.com.au
Internet:
To website