MHWirth Pile Top Rigs for Boone Dam Repair Project
Early 2021, a milestone was reached in the restoration of the 70 years old Boone Dam in Tennessee, USA: The last pile for the new underground cut-off wall was successfully installed.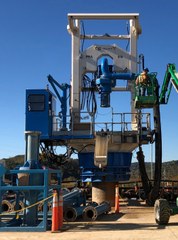 During the past 18 months, three MHWirth pile top drill rigs Wirth™ PBA 818 have been executing more than 300 drillings to a depth of 80 m, right into the bedrock, with each machine having a drilling diameter of 1.27 m.
The 467 m (1,532 ft) long and 49 m (16 ft) high Boone Dam was initially built in the 1950s. In 2014, a sinkhole was discovered near the base of the embankment, indicating potential safety issues of the dam. To repair the dam, a composite seepage barrier made from non-erodible material was installed to create a positive cutoff from the reservoir.
Highly-precise boring technique
Antonio Caroli, Plant Manager of drilling contractor Treviicos-Nicholson JV explains: "For the Boone Dam Repair Project, 310 overlapping concrete piles will form a continuous concrete wall sealing the dam. This requires highly-precise drillings. Using MHWirth pile top drill rigs, we could conclude drillings right on schedule."
To achieve a long-term water tight wall, the boreholes are drilled in a special order, with holes 1, 3, and 5 being drilled first and then filled with concrete. Afterwards, holes 2 and 4 are realized. The boreholes must overlap adequately on the entire length of the wall, resulting in extremely close tolerances for the borehole's straightness.
In order to achieve this to date unique level of precision, the MHWirth pile top drill rigs are equipped with a special drill string including triple stabilized drill collars and a drill bit with stinger (centre point). The system is supplemented by a measuring device, enabling control of verticality at any drilling depth. This provides continuous quality documentation of the borehole's straightness.
"MHWirth has extensive experience from previous projects with high precision requirements, for example the Wolf Creek dam project", explains Nikolas Schmitz, Head of RCD & Minerals at MHWirth. "Our pile top drill rigs perform consistently reliable 24/7 and achieve extremely precise drilling results. This emphasizes our high quality standards in reverse circulation drilling and as a provider of highly-efficient drilling rigs."
Efficient technology for challenging infrastructure projects
MHWirth pile top rigs cover the diameter range from 0.6 (2 ft) to 8.0 m (26.3 ft). Compared to conventional drilling technologies, they provide the most economical solution for foundations in hard rock or mixed formations up to 500 m (1,640 ft) deep. More than 350 pile top drill rigs from MHWirth have proven to be outstandingly reliable and efficient in numerous projects around the world.
With reverse circulation drilling (RCD) as the core technology, this energy-efficient and robust method is realized with clean water free of chemical additives, making it suitable for ecologically sensitive areas.