Mastering public sector challenges together
An interview with Managing Director Robert Ristow

The whole of Germany has access to reliable supplies of drinking water and environmentally sound wastewater treatment operations. These key services are, for the most part, in the tried and tested hands of public sector companies. And so it's been 'business as usual' in the water sector in 2023? Far from it. Cities and districts find themselves facing some truly formidable challenges after the German government passed its National Water Strategy in the middle of March. Why? Because all regional sources of water – our no. 1 foodstuff – must be sustainably secured and rainfall must be managed as a key resource to counteract the impact of climate change.
RE:VIEWS: Mr Ristow, the theme of this year's World Water Day, which was held on 22 March, was "Accelerating Change". The main goal of this campaign is to achieve clean water and sanitation for all. Can German councils sit back and relax as far as these particular topics are concerned?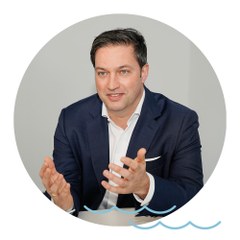 Robert Ristow: Well let me put it this way: the challenges faced by Germany are different to those faced by other countries. I believe World Water Day is a good opportunity to emphasise the importance of water and explain why we can take it for granted that we can get clean water from our taps whenever we need it. Contrary to some of those sensational headlines in the media, there will always be enough high quality drinking water for the German population.
Should the country find itself facing an emergency, then provisions are in place for drinking water supplies to be used to cover the population's needs ahead of all other uses. What we mustn't do, though, is to turn a blind eye to the high demands being put on local authorities to maintain and further develop their water management infrastructure. Huge investments still need to be made! Private consumption has increased massively, especially during the so-called peak periods.
We need to adapt both to these new realities – caused, in part, by climate change – and to the growing impact of anthropogenic trace substances such as PFAS. And that's not all. I believe that demographic change, the loss of expertise caused by skills shortages and the large number of water suppliers, many of who are very small, could all potentially put our secure supplies of high quality water at risk.
RE:VIEWS: Talking about risks. While the Covid pandemic was putting even more pressure on the way water suppliers organised their business in 2022, energy prices suddenly soared and it became difficult to get hold of materials that had previously been easy to access…
Robert Ristow: Think back to the time before the Ukraine war: the water management sector was stable and supplies of water were secure. I believe that this is the reason why we were able to master so many negative events in such a short time. Having said that, though, water suppliers must be capable of adapting to all types of events. The sector has shown that it can respond to and overcome crises – as has the energy sector by the way. I do feel that wherever the new framework conditions have led to difficulties, this does at least open up opportunities to rethink the way sectors collaborate.
RE:VIEWS: The recently passed National Water Strategy often mentions collaborations, for example that regions with sufficient volumes of water should share their supplies with those that have a lack of water. It says that supplies of drinking water must have been secured by 2025. Isn't that already the case here in Germany?
Robert Ristow: There are regions in Germany blessed with high volumes of rainfall irrespective of climate change. Others have to cope with more adverse conditions. The water sector will have to adapt its infrastructure to reflect this situation. As a business, we tend to think long term, in periods stretching over 50 to 80 years. This basic demand to have secure supplies in place is certainly correct.
What we have to do, though, is to completely rethink the way we manage and protect our groundwater resources. All associations agree that this would open up some big opportunities. The same applies to the extended producer responsibility cited in the draft revision of the EU's Urban Waste Water Treatment Directive. That's a positive step. What's more, I believe the designation of priority areas is also a good tool for securing water supply.
RE:VIEWS: One of the goals of the National Water Strategy is to have affordable, top quality drinking water everywhere and at all times by 2050. Will collaborations have to be set up that go beyond the borders of each individual region to achieve this?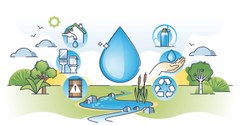 Robert Ristow: That would be a move that can only be welcomed. It's regrettable that we have to experience events, such as a pandemic, a war or climate change, before we start thinking about collaborations. In my opinion, larger and more efficient structures and public-private joint ventures are best at tackling the aftermath of crises. And yes, cooperation work can make supplies more secure, for example when it comes to water. Just one more thing about collaborations, which are primarily being entered into at the moment because the sector finds itself under pressure. These could be a great start for all those involved! What's important, though, is that people look at them with an open mind and consider how such collaborations could be strengthened and expanded. And not just cooperation work between different local authorities but also between municipal and private sector businesses.
RE:VIEWS: That might also concern the question, then, whether suppliers, who don't have sufficient resources in their catchment area for their customers, can procure drinking water from beyond their borders. Right?
Robert Ristow: Water suppliers don't just focus on extracting and producing water but also on distributing it by ensuring they have the right infrastructure in place. Having said that, though, it might become necessary for some of them – those in the south of Germany for example – to procure water from other regions. Groundwater levels have certainly recovered in some areas of north Germany. Some regions will definitely have to address the question of whether they must collaborate with others or not. And, perhaps more than others, they will have to focus on how their water is really being consumed. If truth be told, just a fraction of the water being consumed is actually used as drinking water.
What needs to be clarified here is whether drinking water really needs to be used for industrial operations. And whether there are opportunities to reuse water here. A broader approach needs to be taken and people with the necessary know-how need to be brought in to help. Innovative, future-proof solutions are being developed in our group and this know-how is passed on so that all of the companies in the group benefit from them.
RE:VIEWS: The National Water Strategy stipulates that the primary use of water must be as a foodstuff. There are other consumers of water, though, and their requirements are also growing, such as farmers – you mentioned industry earlier. So how can we untie this Gordian knot?
Robert Ristow: The first thing we need to do is to take a serious and unemotional look at their different interests. I don't believe it's a good idea at all to play one against the other. We all have to work together to reach the finish line. Let's take a look at some of the facts: most of the water used by meat processors is for cleaning; just a small proportion is actually used in their production processes. Which brings us back to the subject of circular water – or water reuse – as they don't always need to have top quality drinking water for their operations. This water, of course, then no longer falls into the 'essential public service' category anymore. What's important here is to get users to accept smart closed loop concepts. Universities and research institutes are already carrying out some promising research projects, which our group is also part of, to look into how a reduction in demand can impact on the extraction of drinking water.
RE:VIEWS: What applies to groundwater as a source of drinking water must also be applied to rainfall nowadays, i.e. it is an indispensable resource. More often than not, though, rainfall flows into so-called mixed sewer systems and ends up at sewage treatment plants rather than in local water cycles. Even though, for the most part, rain doesn't need to be treated.
Robert Ristow: Separating mixed sewage systems requires long-term financing, of course. But just because something is difficult to finance doesn't make it any less necessary. Heavy rainfall events – and no one can deny that climate change is making them more frequent – could take a great deal of pressure off regional water cycles. It would make sense, therefore, to capture and use rainfall locally. Looking at the status quo, however, local authorities would have to bear the costs of such investments by themselves. And they may be less keen to do this if they then have to pass on these costs to their local residents. From point of view of technology, though, there are certainly sufficient ways available to separate such systems. To do this means setting up completely different wastewater systems. For the most part, potential irrigation areas are not located right next to where sewage treatment plants discharge their water. It's certainly right that we should keep relatively low-polluted water, such as rain, well away from the energy-intensive treatment plants. This must be taken into account when future renovation measures are being planned. Decentralised solutions are needed here and should include removing hard surfaces from urban areas. Our group supports local authorities, as part of its PPP projects, across the board here – from helping them to develop a concept and analysing their needs, to planning the engineering work, all the way through to carrying out the construction work and financing.
RE:VIEWS: Heavily polluted wastewater will still end up at sewage treatment plants even if we do manage to keep rainwater away from them. The draft revision of the EU's Urban Waste Water Treatment Directive is looking to extend producer responsibility to tackle the problems caused by the traces of cosmetics, medicines and other products found in wastewater. In other words, producers should cover some of the costs of e.g. the fourth treatment stage. Is this in your interest?
Robert Ristow: There's an impressive consensus among both the private sector and municipal associations that these proposals are right. But the fourth treatment stage mustn't be the only solution. It is just one element in a chain of measures. As a basic principle, it is, of course, always better to solve the problem at its source – in production, in hospitals, clinics and retirement homes as well as in commerce and industry. Starting at the source, i.e. reducing the volumes of pollutants getting into the water in the first place, will only partially work. Which means we have no choice but to act. We are becoming more and more aware of how substances are being released into the environment and the impact they have. It's up to the politicians to decide whether it's fair to finance the treatment process via wastewater charges or to get the polluters and/or producers to contribute.
RE:VIEWS: Putting all the technical issues to one side, there would also appear to be a need for a completely new level of awareness for water as a resource – our no.1 foodstuff. What changes would you like to see?
Robert Ristow: Yes, water is an important educational topic! Looking at environmental surveys, younger people would appear to have a greater level of awareness overall. That's something that can only be welcomed. And I think it's important for water suppliers to join in and help educate the general public. I truly believe it is our duty to do this. We, as a company, must discover how to do things better just as final consumers must do. Our business is very different to what it was 30 or 40 years ago. Nowadays, we are talking about the intensive use of rainwater. We are talking about realising that swimming pools perhaps shouldn't be filled during peak consumption periods. People need to be made aware that everyone has a role to play in this development. That would be an important step towards improving the situation.
RE:VIEWS: Mr Ristow, many thanks for taking the time to speak to us!
Contact
REMONDIS SE & Co. KG
Brunnenstraße 138
44536 Lünen
Germany
Phone:
+49 2306 1060
E-Mail:
info@remondis.de
Internet:
To website