Manage Sewers Smarter With PACP
Our nation's sewer infrastructure is deteriorating faster than we can repair it, and winning the fight means inspecting smarter.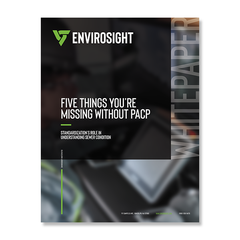 The Pipeline Assessment and Certification Program (PACP) provides wastewater utilities with a standardized framework for capturing detailed, shareable data from sewer inspections. Using common defect coding practices helps industry professionals better understand sewer condition, and consequently, make more informed and cost-effective maintenance decisions.
Envirosight's FREE white paper, Five Things You're Missing Without PACP, outlines five specific ways municipalities can benefit from standardized inspection data.
Developed by NASSCO, the Pipeline Assessment and Certification Program (PACP) is a framework for documenting data consistently. It's compatible with computer analysis so you can generate maintenance strategies that maximize your budget and impact.