LightRay Launches LRI Lateral Inversion System: Enhanced UV Technology for Pipeline Rehabilitation
Leading manufacturer of advanced UV cast-in-place-pipe technology expands product portfolio to include new LightRay LRI System, the most advanced entrant to the UV cured inversion liner market.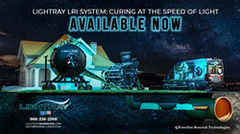 Waterline Renewal Technologies, a portfolio company of Behrman Capital, announces the launch of the
LRI System
, its newest addition to the LightRay product family. The innovative LightRay LRI System has a simple design that allows complete operator control, rapid system deployment and a faster curing process for rehabilitating pipelines.
Designed, built and supported in the United States of America, the LightRay LRI System can reach throughput up to 6.3 feet per minute of curing with the 50-foot proprietary light train, which incorporates cold LED lights for industry-leading cure times and does not rely on heat to cure the liner. In addition, the patented resin does not rely on elevated temperatures to cure or create excess heat. As a result, no matter the temperature in the working environment, operators achieve consistent casting times every time.
"We are extremely excited to release groundbreaking UV trenchless technology for pipeline rehabilitation," states Vice President of Sales and Marketing for Waterline Renewal Technologies, Chris Duda. "Today's announcement of the LightRay LRI System further exemplifies our commitment to providing our customers solutions that will help develop and grow their businesses. We will continue to invest in research and development so that our product portfolio allows us to remain a one-stop solution provider for our customers."
Furthermore, operators no longer have to carry hazardous materials in their truck or trailer or measure and mix the resin on-site as the LightRay liners arrive pre-wet out and ready to install. This dramatically reduces the variability from mixing and preparing liners and eliminates the requirement for extra equipment in the field, allowing for rapid system deployment.
Contact
Perma-Liner Industries, LLC.
Lauren Davies
13000 Automobile Blvd # 300
FL 33762 Clearwater
United States
Phone:
+1 815 8306222
E-Mail:
info@waterlinerenewal.com
Internet:
To website