LAPP Sponsors TUM Boring
No More Snail's Pace: Tunnel Construction for the Mobility Transition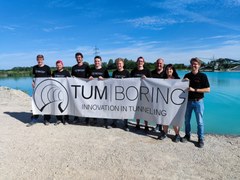 Building the world's fastest tunnel boring machine – that is the aim of TUM Boring -Innovation in Tunneling. The team of around sixty students from the Munich Technical University took part in the "Not-a-Boring Competition" launched by Tesla founder Elon Musk, and made it through as one of the twelve finalists. Also on board: numerous connection solutions from LAPP.
The task set in the competition is to design and construct a tunnel boring machine that is faster than the current systems – which are currently unable even to keep up with the speed of a snail – and thus reroute traffic underground in the long term. The team of students from the Technical University of Munich is taking on this challenge with an innovative concept and is supported by LAPP in its implementation. "The wealth of ideas and the commitment of the students have impressed us from the outset," says Alois Heimler, Business Development Manager for the automotive sector at LAPP.
"Fostering young talent has always been a strong focus at LAPP and an integral part of our DNA." Therefore, the decision to support the project as a sponsor was not a difficult one. Thus, LAPP is supplying around 200 components for data and power transmission inside the boring machine.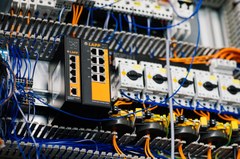 To satisfy the students' specific needs, the TUM Boring project team worked with LAPP to develop a tailored solution for their concept. Now, the entire company product family is deployed here: from power and control cables, bus and ethernet cables, the associated connectors, robust ethernet switches right through to cable markings, drag chains and the associated tool. The tunnel boring machine also features connectors that were specially configured for the project.
Developing extraordinary connection solutions for complex projects is a global market leader's speciality – whether it's power supply to a hospital in the earthquake-prone region of Haiti, a photovoltaic system in the harsh desert of South Africa or even the world's fastest tunnel boring machine. "With LAPP products, our machine is now equipped with reliable connection solutions," says Johannes Drexler, Sub-Team Lead Control System at TUM Boring.
The final in Las Vegas will determine whether the TUM students' solution can prevail against international competition. Here, the teams must drill a tunnel 30 metres long and 50 centimetres in diameter as quickly as possible. Patrick Olivan, Senior Business Development Manager for Services at LAPP is quite certain about the outcome: "We're convinced that TUM Boring will win."
Contact
U.I. Lapp GmbH
Schulze-Delitzsch-Str. 25
70565 Stuttgart
Germany
Phone:
+49 711 7838 01
E-Mail:
info@lappkabel.de
Internet:
To website