Introducing the Vermeer R600T Reclaimer
Vermeer expands its horizontal directional drilling (HDD) fluid management equipment line with the new R600T reclaimer.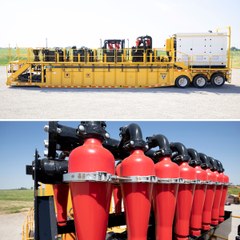 The new 600-gallons-per-minute (2,271.3-L/min) mud recycling system can pair with maxi rigs pumping between 300 gallons per minute and 600 gallons per minute (1,135.6 L/min and 2,271.3 L/min) on pipeline and other large-diameter installation projects.
The R600T features a redesigned linear-motion shaker deck to help reduce weight, increase the available G-force and extend screen life, as well as several other performance and serviceability-enhancing features.
According to Adam Bates, Vermeer product manager for fluid management equipment, the R600T is the successor to the popular R9x12T reclaimer widely used in the pipeline industry.
"Since Vermeer launched its first reclaimer, the industry has embraced mud recycling systems because these machines help reduce the amount of drilling fluid additives and freshwater required on HDD projects," he explained.
"Our latest generation of reclaimers, starting with the R250C reclaimer and now the R600T, are excellent machines for contractors because they are so efficient and thorough at separating sand and coarse silts from drilling fluids. Our latest reclaimer model, the R600T, offers excellent jobsite flexibility with its ability to work in conjunction with a range of maxi rig drill sizes."
The three-tank (scalped, middle and clean) R600T reclaimer has a total fluid capacity of 7,729 gallons (29,257.4 L), and can process 1,100 gallons per minute (4,163.9 L/min) of drilling slurry for a true cleaning capacity suited for HDD projects in the 600-gallons-per-minute (2,271.2-L/min) range. The drilling slurry cycles through two 10-inch (25.4-cm) desanders and a desilter manifold with sixteen 5-inch (12.7-cm) desilters to remove sand and coarse material before being deposited onto the unit's linear motion shaker decks. The unique design of the desilter manifold reduces turbulence when the liquid exits the hydrocyclone to help minimize recycled sand content and keep spoil/soil moisture levels low.
Also, contractors have the ability to choose their own power source for the R600T. They can configure the reclaimer with an onboard generator set or connect it to another power source they are already using on the job. "Many contractors prefer to rent support equipment on large-diameter pipeline projects," explained Bates. "Equipped with quick-connect electrical cables, crews can quickly connect the reclaimer to a rented generator or even a shared gen set that may also be powering the drill's operator cabin."
With a one-level working deck, fast deploying walkway and centralized main controls area, the R600T sets up quickly and is efficient to operate.
Contact
Vermeer Corporation
Todd Versteeg
Media Contact
1210 Vermeer Road East
IA 50219 Pella
United States
Phone:
+1 515 998 9481
E-Mail:
todd@lessingflynn.com
Internet:
To website