Innovyze VP Outlines Bold Vision for the Future of Drainage Design Software
Innovyze VP of Innovation, David Fortune recently shared his vision for the future of drainage design with Sr. VP of Marketing, Brad Fetter in the company's latest podcast episode, Sustainable Urban Drainage Systems: A Fresh Approach.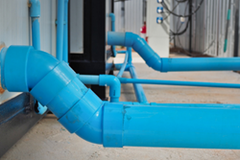 Fortune has always had strong interest in drainage design and has designed and developed software systems in and outside of the water industry for many years.
"About ten years ago I took over the management of MicroDrainage, the standard package for designing drainage in the UK and the Republic of Ireland. Later, I led the design and development of what became InfoDrainage," Fortune said.
Through his management of Innovyze's MicroDrainage software, Fortune began to seek a drainage solution more tailored to Sustainable Urban Drainage Systems (SuDS). The release of InfoDrainage marks the next step in this effort, and a new opportunity for drainage professionals to access cutting-edge software.
"We are all becoming aware of the limitations and costs of traditional pipe, pit and tank drainage and are looking for a more flexible, sustainable approach. We want to build drainage that delivers against the four pillars of stormwater management: quantity, quality, amenity and biodiversity," he added.
This focus on sustainability serves as the next step in an industry-wide shift towards supplementing "gray" infrastructure with a focus on eco-friendly "green" drainage Infrastructure.
"I had the pleasure interviewing David to discuss his ideas for the future of drainage design at Innovyze," Fetter, said. "His experience and expertise in delivering Digital Twins for water systems is an immense asset to the industry. We believe his leadership in innovation will continue to shape water management for years to come."
As part of the next generation of drainage design, InfoDrainage is a graphical platform that provides solutions for both traditional and sustainable drainage. InfoDrainage integrates seamlessly with CAD and GIS platforms to simplify the design process, and is equipped with detailed designs and customizable reporting for local regulatory compliance.
For the future of drainage design, Fortune believes, "Drainage designers need to work fast and accurately, and they want to make good use of available space on site with a mix of traditional drainage and green infrastructure. InfoDrainage is the right tool for the job – encouraging creative designs that make best use of stormwater and exceed local drainage standards."
InfoDrainage is built with years of industry expertise. The easy-to-use software caters to designers, developers, landscape architects, engineers, consultants, and planners to serve the needs of the market.
Contact
Innovyze
Natalie Long
6720 SW Macadam Avenue, Suite 200
OR 97219 Portland
United States
Phone:
+1 4805449442
E-Mail:
support@innovyze.com
Internet:
To website