HDD to help Monarto pipeline project
SA Water will use horizontal directional drilling (HDD) to assist in installing a section of pipe underneath the Melbourne to Adelaide rail corridor.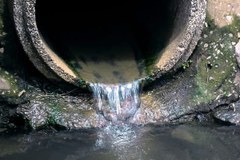 Crews have been working through sections of Monarto Safari Park to lay new pipes to duplicate four existing mains, as part of SA Water's upgrades to improve the water network across the Murraylands. More than half of the 7000m of new water main is now in the ground across Monarto Safari Park. SA Water senior manager of capital delivery Peter Seltsikas said that HDD equipment will be used to bore beneath the track.
"Our crews have been operating a horizontal directional drill to bore a 60-metre-long tunnel under the track for the pipe to be pulled through via a trench on the other side at the fringes of Monarto Safari Park, where they're currently wrapping up the final section within the park," Seltsikas said. "Rather than lay PVC pipes like we're using elsewhere for the project, we're using high-density poly pipes, due to their increased flexibility to withstand ground movement and their ability to be welded together and pulled through the tunnel."
"This is particularly beneficial given the greater potential impact a leak on this section of pipe may have, given the importance of the rail infrastructure. To provide more protection, we will encase it in a slightly larger pipe to help prevent any damage to the track in the event of a leak." The Monarto project also includes an upgrade to SA Water's pump station in White Hill to support the increased flow of water.
Contact
Trenchless Australasia
Vivien Topalovic
Author
379 Docklands Dr,
VIC 3008 Docklands
Australia
Phone:
+61 3 9690 8766
Fax:
+61 3 9682 0044
E-Mail:
enquiries@primecreative.com.au
Internet:
To website