Growing with the Government
A Guide to Bidding on and Winning Government Contracts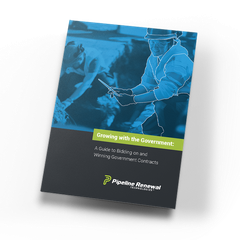 Adding government contract work to your line of service can be as rewarding as it is challenging. But finding solicitations and nailing the bid takes time and expertise, so let Pipeline Renewal Technologies lead the way!
When it comes to landing a government contract, the bidding process can be a major hurdle. Start expanding your understanding of what it takes to win government contracts with expert insights and advice.
From evaluating solicitations to breaking down the nuts and bolts of bids, Pipeline Renewal Technologies' white paper, Growing with the Government: A Guide to Bidding on and Winning Government Contracts, helps you successfully navigate the process start to finish.
Contact
Pipeline Renewal Technologies
111 Canfield Ave.
NJ 07869 Randolph
United States
Phone:
+1 866 567 8316
E-Mail:
mail@pipelinert.com
Internet:
To website