Focus on pipe protection
Kwik-ZIP centraliser and spacer systems are solving challenges in trenchless pipe installations across Australia and worldwide. Late in 2022, Sydney Water and the West Region Delivery Team (WRDT) contracted Quickway for a water mains installation project. Quickway specialises in transport and utility infrastructure, having completed many projects around Australia. The project was centred on Elizabeth Drive in Badgerys Creek, a western Sydney suburb. The water main needed slip-lining of an 813 mm outer diameter (mm OD) carrier pipe.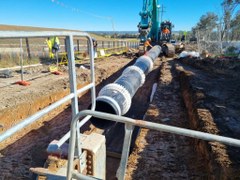 Quickway utilised kwik-ZIP HDX-90 spacers to facilitate the slip-lining over a 180-metre run. "kwik-ZIP spacers provided both protection and cover for the carrier pipe. It allowed us to complete a successful underbore installation," says Quickway project engineer Matthew Macinnes.
What is the HDX Series?
The HDX Series has a unique load-sharing design. It is designed to maximise the load-bearing capacity of each runner while reducing point loading. The simple and efficient installation process does not require any special tools. The HDX casing spacer comes in four runner heights, ensuring that pipeline installers can handle a range of carrier pipe outer diameter and casing inner diameter combinations. This flexibility grants installers the ability to customise pipe position for grade control.
Jason Linaker is the Managing Director and creator of the Australian-owned kwik-ZIP products. He is proud to have multiple WSA PS-324-compliant in the HDXT and HDX series. The recognition of these products will allow kwik-ZIP to continue supporting safer and longer-lasting installations. "kwik-ZIP casing spacers will protect pipes, make installation easier and extend the life of your asset. With two product series being approved by the industry, choosing the right spacer for longevity and success is easy," says Linaker.
The spacers incorporate low friction, high abrasion-resistant wear pads attached to load-sharing runners. The outside diameter of the pipe determines the number of segments required for each spacer. "Flexibility of the design means various runner heights across the series of products can be achieved. It allows for different pipe/casing combinations and a broad range of carrier pipe dimensions," says Linaker.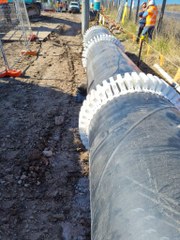 "Spacers are usually a small part of the overall pipe installation process. Correctly designed and fitted non-metallic spacers with low friction runners can increase the life expectancy of the pipeline. They mitigate corrosion, protect pipes from abrasion and scoring during insertion, and reduce installation forces on joints during slip lining." The different runner heights across the HDX and HDXT models ensure pipeline installers can handle a range of carrier pipe OD and casing host pipe ID combinations. It also allows installers to custom-pipe position for grade control.
What is unique about kwik-ZIP?
kwik-ZIP's series of spacers caters to a range of carrier and casing pipe size combinations. It also provides contractors and installers flexibility to deal with project alterations. kwik-ZIP spacers have no metal parts, instead manufactured from high-grade thermoplastic. It is flexible and tough, and the low-friction coefficient also minimises the installation forces for large bore pipes. The metal-free construction is compatible with all potable water applications and is resistant to corrosion and rust.
kwik-ZIP's HDX Series further minimises potential damaging vibration and movement transfers from the outer casing to the carrier pipe via innovative suspension and dampening technologies.The kwik-ZIP systems are now used in production well completion, horizontal directional drilling (HDD), rock bolt and anchor centralisation and trenchless pipeline installations across Australia, New Zealand, the UK, and the US.
Contact
Trenchless Australasia
Clémence Carayol
379 Docklands Dr
VIC 3008 Docklands
Australia
Phone:
+61 3 9690 8766
E-Mail:
info@trenchless.com.au
Internet:
To website