Esco Introduces new COHOG® Split Frame Tube & Pipe Cutter that is Robust with Easy to Setup Modular Tooling
Esco Tool has introduced a new clamshell style, O.D. mounted split frame machine that features fast, accurate, and easy to setup indexable tooling to part and bevel tube and pipe from 2" to 48" dia.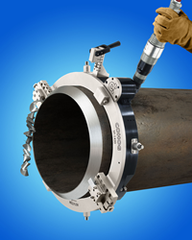 The
Esco COHOG® Split Frame Machine
has a robust stationary ring machined from 7075 aluminum alloy that is hard coated and supports a custom steel forged, heat-treated and nickel-plated rotating ring using precision tuned eccentric bearings.
Featuring indexable tooling with slides and trip mech-anisms and a marked locating system, this clamshell style machine can be precisely aligned and quickly attached without shims or guesswork.
Providing vibration-free operation, Esco COHOG® Split Frame Machines have sealed construction to protect bearings and bearing races from debris. Modular tool slides use tool steel blades or inserts with multiple cutting edges that offer more cuts per blade, and come in a variety of sizes for space-restricted applications. Motor options include pneumatic, hydraulic, and electric power that can be mounted in different orientations.
The Esco COHOG® Split Frame Machine is priced from $9,995.00 to $29,995.00, depending upon size and are available for sale or rent.
Contact
ESCO Tool
Matthew Brennan
Marketing Director
75 October Hill Rd.
MA 01746 Holliston
United States
Phone:
+1 800 343 6926
Fax:
+1 508 359 4145
E-Mail:
matt@escotool.com
Internet:
To website