Drought Prompts New Metropolitan Advertising Campaign Asking Region to Save Even More Water
Multilingual campaign targets audiences through radio, billboards, bus shelters, social media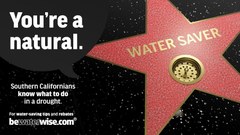 Inevitable cycles of
drought
are just as much a part of Southern California as its rich history, entertainment industry and action sports culture – all themes that come together in Metropolitan's latest conservation advertising campaign.
The campaign pays homage to the many different lifestyles that make Southern California unique, while empowering residents throughout the region to explore ways to build on their well-established water-saving habits as severe drought conditions impact water supplies throughout the state.
"Our campaign is designed to reach diverse audiences with an inspiring message that celebrate both the region's rich heritage and its dedication and success in conserving water," said Metropolitan External Affairs Group Manager Sue Sims. "It sets a reassuring tone that reminds all of us that we've done this before, we know what to do and we can do it again – together."
The multi-lingual creative, developed entirely in-house by Metropolitan staff, will be featured in radio spots in English and Spanish on 42 Southern California stations, on digital billboards, transit shelters and social media. The campaign, which runs through mid-October, was informed by research, including a poll of Southern Californians that showed high concern about the drought and a willingness by more than 60 percent of respondents to do even more to save water.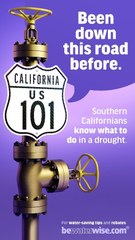 California is in its second year of drought, with worsening dry conditions. Fifty of the state's 58 counties are under an emergency drought declaration, prompting Gov. Gavin Newsom this summer to ask residents to voluntarily reduce their water use by 15 percent. Metropolitan took action this month to declare a
Water Supply Alert
across its six-county, 5,200 square-mile service area calling on the region to conserve water to protect valuable storage reserves.
"If the 19 million residents of Southern California commit to making even one small change to save water, they can add up to make a big impact in how we get through this drought," said Metropolitan Water Efficiency Manager Bill McDonnell. "This campaign is designed to provide tips and resources that anyone can take advantage of – whether they're small behavioral changes like only doing full loads of laundry and promptly fixing leaks, or larger actions such as using one of our rebates to purchase a high-efficiency household appliance or swap out a lawn for a California Friendly® garden."
Contact
The Metropolitan Water District of Southern California
Maritza Fairfield
P.O. Box 54153
CA 90054-0153 Los Angeles
United States
Phone:
+1 213 217 6853
Internet:
To website