Drain inspection cameras capable for toughest trenchless projects
With a range of products on offer through ROTHENBERGER, RICO offers different types of cameras to assist the trenchless industry.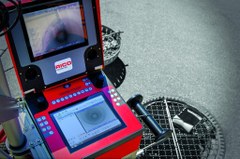 Founded in 1978, RICO first developed technology for testing welding seams of pipes, laser devices for measuring distances, and cameras for nuclear plants. RICO later focused on TV inspection of pipes and sewers. In 1990, the company was sold to the ROTHENBERGER Group, residing in Kelkheim, Germany, before merging with the EAB, Kleinwalsertal, and later with RICO in Kempten in 1994.
As a result, this created a company strong in development and able to operate worldwide. Today, ROTHENBERGER has a special position among its competitors, with its flexibility and responsiveness, share-owning management, and financial power deriving from the group-membership. With its specialised drain inspection cameras, RICO offers capabilities designed for some of the toughest conditions and applications.
"These cameras come with many standard features such as LED lighting, self-levelling camera heads, pan and tilt functions, and high-resolution video recording capabilities," ROTHENBERGER Australia and New Zealand Managing Director Trent Carter says. "In addition, RICO offers a range of inspection systems that include monitors, recording devices, and other accessories that are used in conjunction with the cameras." With the use of RICO's cameras, operators can quickly identify issues such as cracks, blockages and make informed decisions about the best course of action.
"This ultimately saves time and money while improving the overall quality of service provided to customers," Carter says. Throughout its extensive industry applications, RICO cameras are commonly used in industrial and commercial pipes inspections to visually inspect the condition of pipes and identify any damage that may require repair or maintenance. Specifically, the crawler type camera is designed to traverse through larger diameter pipelines. These cameras are often used for longer inspection runs in larger diameter pipes and can navigate easily through bends and turns.
"RICO crawler cameras typically have standard features, such as the ability to pan, tilt, and zoom the camera and may also be equipped with laser scanning capabilities for capturing 3D information about the pipe's interior," Carter says. "Both RICO push and crawler cameras are capable of capturing high-quality videos and images of the pipe's interior and can be used to detect defects such as cracks, corrosion, or blockages.
"However, the choice between a push camera and crawler camera will depend on the specific requirements of the inspection, such as size and configuration of the pipe, the length of the inspection run and the desired level of detail and accuracy."
Another effective aspect of RICO's arsenal is laser scans. Laser scanning is another useful tool for trenchless operators when inspecting drainpipes as it allows for the capture of 3D information about the interior of the pipe. Laser scanning on RICO cameras can efficiently measure the distance to points on the surface of the pipe, creating a detailed 3D point cloud of the pipe's interior.
This 3D information can be used to detect defects such as cracks or corrosion in the pipe's surface that may not be visible to the naked eye or with traditional video inspection methods. The 3D model can also help to identify the location and size of defects, which can aid in planning repairs or replacement of the pipe.
"Overall, using a RICO camera with laser scanning capabilities can help to provide a more accurate and detailed inspection of pipes, potentially leading to more efficient and effective maintenance and repair efforts," Carter says. "As a ROTHENBERGER Group member, RICO receives financial backing for development of the newest technologies and support from our company, too."