Collaborative Leakage Project Recognised by Water Sector
A game-changing UK partnership that is bringing significant improvements to leak detection rates globally has been recognised by the water industry.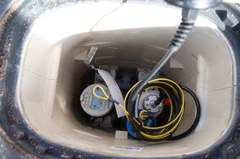 Technology specialist Ovarro and UK utility Anglian Water Services collaborated on the development of remote leak detection device Enigma3hyQ and cloud-based analytics platform PrimeWeb.
Between April 2018 and January 2021, the system found 6,783 leaks on Anglian Water Services' network, with a 1:1 ratio of leaks found to points of interest issued.  The sensors are effective in finding leaks over long distances and inside plastic pipes and have gone onto be rolled out globally, including in Malaysia, Singapore, Australia and across Europe.
The achievements of the collaboration were recognised by the Water Industry Achievement Awards on 27 May 2021, which named it Alliancing and Partnership Initiative of the Year.
Judges commented: "This project stood out from a list of high-quality entries with a clear demonstration of the benefits of approaching a major regulatory and customer issue in an innovative way. The collaborative nature of this initiative and the open sharing of knowledge has delivered significant improvements in Anglian Water's leakage detection rates."
Leakage remains one of the biggest concerns for the water industry and Ofwat is expecting companies to adopt new techniques to tackle it in AMP7.  In collaborating on the Enigma3hyQ project, Ovarro and Anglian Water wanted to develop technology to increase efficiency when compared with traditional acoustic detection, save time, free-up staff and improve leak detection on plastic pipes.
The utility approached Ovarro in 2017 with an idea to adapt existing technology by combining two products – a correlating noise logger and a site-based hydrophone. A development team was established with experts from both organisations to create the Enigma3hyQ system's hardware and software elements, including a workflow management app and PrimeWeb.
The team refined processes around performance reporting, target outcome delivery, training and integration with business-as-usual leakage operations. Following a trial on 40km of mains in Louth, Lincolnshire, Anglian Water Services began fully embedding the technology.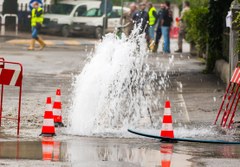 Anglian Water Service's smart water strategy manager Andy Smith said: "We very much created the Enigma3hyQ technology together. We didn't want to just accept what was on offer, we wanted to collaborate to drive for the best solution for the challenge we faced."
Josh Britton, Ovarro global product line manager, said: "We are thrilled our collaboration with Anglian Water to develop the Enigma3hyQ system has been recognised by our sector peers at the Water Industry Achievement Awards. The project's success shows how much can be achieved when suppliers work in partnership with utilities, place high value on feedback and take their ideas forward to develop new solutions."
In 2021, the technology was updated further, resulting in the launch of the Enigma3-BB, a remote leak detection device which uses the Enigma3hyQ technology but which is installed directly into an operational meter box chamber – a first for the industry with this type of technology.
Contact
Ovarro Ltd
Kathryn Langley
Global Marketing Manager
Rotherside Road
S21 4HL Sheffield
United Kingdom
Phone:
+44 1246 437580
E-Mail:
kathryn.langley@ovarro.com
Internet:
To website