Collaborative Approach Required to Achieve Zero Pollution
Water companies can expect increasing scrutiny into their environmental performance, as customer awareness of river and bathing water quality grows. This was among messages from Helen Wakeham, deputy director of water quality at the Environment Agency, during a keynote address at the Zero Pollutions Conference 2020, hosted by technology consultancy Isle.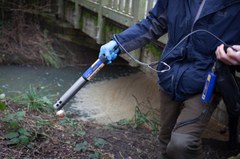 Speaking on 14 September to an audience of international water professionals, including utilities and suppliers, Wakeham said: "Something has really changed in the past year. Everyone is talking about water quality. Local interest groups are attracting not just local media interest but national media interest. Rivers and beaches are all our shop windows. People notice and people care."
The conference, hosted by Isle to support the UK water sector as it strives to achieve ambitious pollution targets over the next five years, took place days before the Environment Agency published figures that found just 14% of English rivers are of good ecological standard.
Wakeham also spoke at Isle's 2019 conference, when she said the agency expected the water industry to "sprint to zero pollutions". Updating the 2020 audience on the current national picture, she said: "It doesn't feel like we are sprinting at the moment, I don't think we've even sashayed. The public could be forgiven for thinking we haven't even heard the starting gun."
Wakeham said there were areas of progress, however, particularly in innovation for real-time sewer monitoring and areas of both large and small-scale investment. She added that companies' incident reduction planning should be innovative and forward-looking and the opportunity to communicate with an increasingly engaged customer base should be seized to regain public confidence.
"We need to be able to say what we're doing, what we've done and what we've achieved. There are lots of opportunities that can make for a really positive conversation about water quality with the public. We need to tell a much broader story about the water industry and its role in the environment."
The conference also included presentations from Anna Boyles, head of performance, risk and optimisation at Thames Water, who spoke about the companies' intelligence-led approach to pollution reduction, Peter Hadfield, recently retired  from Sydney Water, Australia, who presented on the company's award-winning Keep Wipes out of the Pipes campaign and Rebecca Burgess from environmental organisation City to Sea, who highlighted the ecological and business benefits of partnership working.
Other speakers included Sarah Purnell, principal research fellow at the University of Brighton's Centre for Aquatic Environments, who presented research on how data can be used to determine factors influencing pollution performance, Ben Hawkins, innovation business partner at Amey, which has developed an augmented reality app to show customers how flushing the wrong items can lead to sewer blockages, and Nick Wood from EuroTempest, which uses data analytics to manage weather risk in the insurance sector.
Giving the closing remarks was Southern Water chief executive Ian McAulay, who agreed: "Something has changed in just one year. Our customer insight has definitely shown us that the environment is one thing that is truly going up the agenda. Lots of good work is being done and we should never forget that. We have a fabulous set of people in our sector, across all aspects. Helping the individual become part of the collective is screamingly important for me. We can't do this on our own, it's got to be a collective so embracing new ways of that is really important."
Thanking participants after the event, Isle's UK managing director Ben Tam said: "As the public focus shifts more to the natural environment and areas such as bathing and river water quality, events like this bring home the importance of the work we do. They also reinforce the need for us to work collaboratively and innovatively to bring the necessary environmental improvements we all want to see."