City of Palo Alto Utilities Selects Sedaru as Next Generation Asset & Operational Management Platform for Wastewater
The silicon valley city advances its digital water initiatives.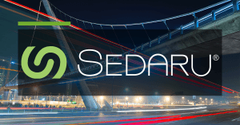 Sedaru, Inc. announced that the City of Palo Alto Utilities (CPAU) Water, Gas and Wastewater Engineering Division (WGW Division) has selected Sedaru to deliver its next generation asset and operational management platform, migrating and consolidating disparate data sets across its wastewater department for preventive maintenance and real-time event response.
CPAU is undertaking strategic initiatives to update and streamline its end-user functional workflows, citywide foundational data sets and the asset management systems that interface between them.
Sedaru will address users, data, systems, and data movement between systems throughout, in support of CPAU's Strategic Direction to empower its wastewater management workforce through technology, enabling real-time collaboration, and optimizing WGW Division resources with improved operating efficiency for enhanced customer service.
To achieve this vision, Sedaru will support CPAU's transition from static, legacy systems, to a modern, real-time, easy-to-use, Esri GIS-based wastewater collection system management software. Sedaru will leverage existing data and systems within a framework for the future, unifying existing, siloed workflows in Granite Net CCTV and Oracle, while replacing existing work management systems within an integrated, real-time decision support system for the WGW Division.
"Sedaru will aid in the WGW Division's decision-making, enabling access to their current GIS, latest work, CCTV, and related communications within an analytics-driven software to support informed sewer system operations to track, trend, monitor, and report-on wastewater system activities," stated Paul Hauffen, President & CEO of Sedaru, Inc.
Sedaru OMNI will be used for corrective and preventative asset management, issuing work in real-time to field operators using Sedaru Fieldforce, while enabling access to WGW Division's systems and data including as-builts, CCTV, GIS, and more. Sedaru OMNI will be used to communicate proactive event response, while delivering wastewater collection system key performance indicators (KPIs) to measure productivity and promote accountability.
Sedaru Fieldforce will be used by WGW Division's field operators as a unified field data collection experience, accessing Esri GIS-based maps in real-time or offline, receiving assigned work from Sedaru OMNI, and completing workflows such as SSO response, manhole alarm inspections, mainline inspections, and more.
Sedaru's focus on buy-in from all end users, from the office to the field, creates both near term and long-term value, ensuring adoption and continuously growing usage of the system, delivering return-on-investment. Accordingly, Sedaru Studio will be deployed to empower internal WGW Division staff with the means to self-administer and configure ongoing workflows post-rollout.
"Sedaru is a reputable company and its software is a proven product used by many utility agencies. Therefore, Sedaru is qualified to perform the work under this contract. We're excited to rollout our new software and transition our team to a real-time wastewater management system" said Silvia Santos, Engineering Manager at City of Palo Alto Utilities, Wastewater Engineering Division.
Contact
Sedaru, Inc.
168 E Arrow Hwy, Suite 101
CA 91773 San Dimas
United States
Phone:
+1 626 244 0700
E-Mail:
info@sedaru.com
Internet:
To website