Choosing Your Next Sewer Inspection Truck
Request a free illustrated guide to sewer inspection trucks.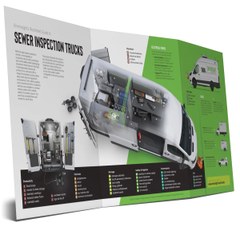 A sewer inspection vehicle should boost your crew's productivity, safety and comfort when performing essential field work. Selecting the right one means choosing between different build styles, power sources and amenities.
Convenience and versatility are also some of the top considerations contractors and municipalities should have in mind when selecting a sewer inspection vehicle.
Envirosight's poster serves as a guide to help you visualize the range of vehicle types and features, and determine the wants and needs of your crew before you buy. The new, FREE poster can be used to designing your vehicle and choosing features to help you make the most of every minute at a manhole.
*Available for US and Canadian addresses only.
Contact
Envirosight
111 Canfield Ave., Unit B3
NJ 07869 Randolph
United States
Phone:
+1 866 927 5634
Fax:
+1 973 252 1176
Internet:
To website