Celebrating the Extraordinary Talent of Women in Engineering
On International Women in Engineering Day WCS Group shines a light on two of its talented engineers, Holly Waterman and Mónica Rodrigues.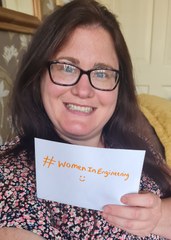 International Women in Engineering Day
(INWED) is an awareness campaign which raises the profile of women in engineering and focuses attention on the amazing career opportunities available to women and girls.
The 2021 theme is Engineering Heroes, which gives special focus to the women who undertake "everyday heroics", who recognise a problem and are part of the solution. Holly, legionella risk assessor at WCS and Monica, proposals engineer at WPL, have critical roles to play in protecting communities and the environment, and supporting customers in delivering safe and compliant water and wastewater services.
Part of WCS's specialist SafeCare team, Holly assesses risk in domestic water systems in settings such as leisure centres, care homes and hotels. Through the WCS Group Training Academy, she is working towards being able to assess more complex systems such as hospitals and cooling towers.
She said: "I have a logical mind and enjoy identifying issues and problem solving. I particularly enjoy the unknown aspect of the job - you never know what you're going to stumble across on site. My role is to help the customer achieve compliance rather than criticise what they're currently doing. Some sites are straight forward; others are more complicated. I enjoy finding the root of these issues and helping the customer solve their issues."
Holly studied at the University of Portsmouth, gaining a degree in marine biology, and a masters in coastal and marine resource management. Her first full-time position in water was at Kingfisher Environmental Services, which specialises in treatment services for industrial, commercial, health and leisure sectors, and is part of the WCS Group.
After two years, she transferred over to SafeCare to concentrate on risk assessing and to take advantage of the opportunities offered through the WCS Group Training Academy. She says she has always felt supported in her career development at WCS and would encourage young women with an interest in engineering to consider pursuing the same path.
"The best piece of advice I can give to young women looking at a career in engineering is don't be afraid to be different. Although this is a male-dominated field, some of the best assessors I know are female. Don't let the fact that you're female hold you back, you're more than capable of doing this. All it takes is common sense, logic and great organisational skills."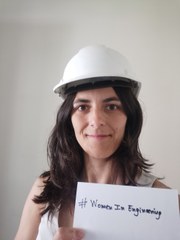 Creating proposals for wastewater treatment specialist WPL, which became part of WCS Environmental Engineering in January 2021, Mónica Rodrigues has a similarly vital role in protecting public health and ensuring environmental compliance.
She said: "I'm a natural problem-solver with a passion for the environment, water and wastewater treatment. Being an engineer enables me to create solutions which promote a continuous improvement in the relationship between environment and society. I love being part of returning clean wastewater to the natural water cycle."
Mónica's studies were based between Lisbon and the Netherlands, where she gained an environmental engineering degree.
She said: "I find the context of my role in society – protecting public health and the environment – extremely satisfying. Of course, there are pressures and risks that come with innovation and problem solving but challenges are exciting, in my perspective, and allow the development of perseverance and resilience." Mónica would like to see engineering promoted to women as an exciting and rewarding career option from a young age.
"The educational system should teach and encourage these career choices and provide the opportunity to develop the relevant skills, particularly around creativity, ingenuity and problem-solving. Doing so would mean girls understand the potential impact they could have on society and feel inspired from the very beginning. Unfortunately, engineering can still be perceived as 'man's profession' but diversity is fuel for innovation and extraordinary talent can be found in female engineers. If you find your passion in engineering, pursuing it will be your biggest reward."
Contact
WPL, part of the WCS Group
Lianne Ayling
C/O Marlowe Plc, 20, Grosvenor Place
SW1X 7HN London
United Kingdom
Phone:
+44 2392 242 635
E-Mail:
lianne.ayling@wpl.co.uk
Internet:
To website