Cayucos Sanitary District Builds New Wastewater Treatment Plant
The January 2021 commissioning of the new wastewater treatment plant (WWTP) for Cayucos, California provides the community with its own treatment facility. PENETRON ADMIX-treated concrete was used for the facility's various processing tanks to provide protection from the aggressive environment.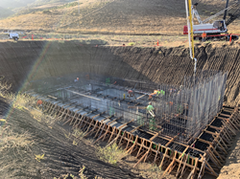 Listed as one of the "Coolest Small Towns in America" by Frommer's "Travel" magazine, Cayucos is a small seaside town of less than 3,000 souls, located about 200 miles (320 km) northwest of Los Angeles.
In 2015, the Cayucos Sanitary District began the planning and construction of a new wastewater treatment plant in Cayucos to replace the now decommissioned facility in Morro Bay, an adjacent town.
The new $25 million Cayucos wastewater treatment plant uses a membrane bioreactor and ultraviolet light (MBR/UV) treatment technology with a 0.34 million gallons/day (MGD) (peak 1.2 MGD) tertiary treatment facility. Recycled wastewater will be used for onsite irrigation and fire protection.
"Thanks to recent innovations and a significant drop in the cost of treatment membranes, MBR facilities have become an accepted process option for wastewater treatment and the reuse of industrial and municipal wastewaters," adds Christopher Chen, Director of the Penetron Group.
Past Success as Good Indicator
Because of the depth of the initial slab (about 30 feet below grade) and the seaside location, the Cayucos Sanitary District engineer needed a robust waterproofing solution. Cal Portland of Paso Robles, the concrete supplier for this project, recommended PENETRON ADMIX, which was approved by Ashley & Vance, the project's engineering firm, thanks to superior performance parameters and success with similar projects in the past.
Approximately 4,000 cubic yards of concrete were treated with PENETRON ADMIX, which was used to waterproof and protect the sewage treatment holding tank and processing tanks – including the 3.5 foot thick foundation slab and the treatment tank walls. Cal Portland incorporated PENETRON ADMIX into the concrete mix design to provide concrete that is not only waterproof (i.e. decreased permeability) but also corrosion resistant and protected against sulfate attack.
The Process of Making Concrete Impermeable
The active ingredients in PENETRON ADMIX react with water to form insoluble crystals, which fill in cracks, pores, and voids in the concrete – becoming an integral part of the concrete matrix. This prevents liquid molecules (and harmful chemicals) to pass through the concrete.
"Permeability by water, chlorides, sulfates and other potentially harmful substances is a key characteristic of concrete durability," explains Christopher Chen. "PENETRON ADMIX enhances durability by reducing permeability and preventing the penetration of harmful substances."
Since its commissioning, the Cayucos treatment plant has consistently outperformed expectations for wastewater treatment based on the regulatory standards and the performance criteria anticipated in the original design.
The Penetron Group is a leading manufacturer of specialty construction products for concrete waterproofing, concrete repairs and floor preparation systems. The Group operates through a global network, offering support to the design and construction community through its regional offices, representatives and distribution channels.
Contact
The Penetron Group
45 Research Way, Suite 203
NY 11733 East Setauket
United States
Phone:
+1 631 941 9700
Fax:
+1-631 941 9777
E-Mail:
info@penetron.com
Internet:
To website