BlueInGreen Sells Its 100th Installation
BlueInGreen, LLC—a water cleantech company and provider of the most efficient method of dissolving oxygen, carbon dioxide and ozone into solution—has sold its 100th installation. These municipal and industrial water treatment installations span from coast to coast in the U.S. and Canada—serving countless applications in eight separate industries while treating over 1 billion combined gallons of water every day.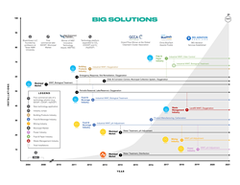 Co-founded by two University of Arkansas professors and VIC Technology Venture Development in 2004, BlueInGreen has quickly grown in size, scale and scope, emerging as an industry leader in water treatment. Since 2016, the Company has consistently achieved a cumulative annual growth rate (CAGR) of 45% or better and continues to grow its pipeline, with 2020 being yet another record-breaking year.
"We're disrupting the water treatment market, and our pace is accelerating," says President, CEO Chris Milligan, PE. "When you look at other innovative technologies in the water treatment space, like ultraviolet (UV) disinfection, for example, it took more than 100 years for that step-change technology to reach 100 installations. BlueInGreen has reached this milestone in only a fraction of that time."
"BlueInGreen is simply at the right place at the right time with the right stuff," continues Milligan. "We're leading the industry-wide trend of replacing chemicals, polymers and ambient air with oxygen, carbon dioxide and ozone."
Indeed the Company's meteoric growth, fueled by a value proposition of lower operating costs and increased treatment efficacy and capacity, is benefitting from the adoption of its disruptive, core technology in two separate market segments simultaneously. Having gained a foothold in the US Municipal Market in 2008, municipalities now lead the water treatment market in the adoption of BlueInGreen's CDOX® systems and carbon dioxide for recarbonation, pH adjustment and corrosion control; and, US industry now leads the water treatment market in the adoption of BlueInGreen's SDOX® systems and oxygen for odor control, biological treatment and nutrient removal.
"What's interesting is that we're starting to see each of these once very separate market segments follow and apply the insights gained from the other's leadership," observes Milligan. "The mainstream buyers in both markets are very pragmatic and risk-averse; however, with BlueInGreen solutions having a proven track record in similar applications in adjacent markets, we're seeing the success in one market accelerate the adoption in adjacent markets. It's a classic 'fast-follower' approach…Proven innovation."
Headquartered in Fayetteville, Ark., BlueInGreen manufactures nine patented product lines for oxygenation, pH adjustment, oxidation and odor control—including the SDOX®, CDOX®, HyDOZ®, SDOX-CS®, StreamLine Series and its latest product debut, the containerized Dual SDOX® 600."The market is responding to our consistent ability to increase treatment capacity and improve water quality while reducing lifecycle costs, operational risk and the physical, energy and carbon footprint of operations," said CFO Scott Goodson. "But companies and municipalities aren't just responding to our technology. They're also responding to our team."
Backed by over 150 combined years of water treatment experience, BlueInGreen's award-winning team of designers, operators and engineers continues to be sought out by elite, third-party consulting engineering firms—such as Jacobs Engineering, Black & Veatch, CDM Smith, Stantec, Burns & McDonnell and Brown & Caldwell—and by iconic international brands—like Georgia-Pacific, Del Monte Foods, Campbell's and Tyson Foods.
"We're happy to hit 100 installations," said Chief Technical Officer Billy Ammons, "and we certainly owe a lot to our customers, their engineering consultants and our representatives and partners for helping us achieve these phenomenal results. But with the current demand, now isn't time to celebrate. It's time to get to work building on this foundation for continued growth."
Beyond its growing client list, BlueInGreen has also garnered international acclaim. The company won the WEF Innovative Technology Award in 2010, the Global Cleantech Cluster Association (GCCA) Grand Prize in 2015 and was named a finalist at the 2017 China BlueTech Water Innovation Awards in Shanghai.
About BlueInGreen
BlueInGreen (BIG) is a water cleantech company that provides the most efficient method of delivering dissolved oxygen, carbon dioxide and ozone into water. Backed by over 150 years of combined treatment experience, BIG offers the most cost-effective solutions for oxygenation, pH adjustment, oxidation and odor control.

 
Contact
BlueInGreen
Cambron Clark
PO Box 9024
AR 72703 Fayetteville
United States
Phone:
+1 4795276378
E-Mail:
info@blueingreen.com
Internet:
To website