Australia's end-to-end trenchless technology solution provider
Since the introduction of the first horizontal directional drill, the Navigator® HDD, through to deployment of the latest in bore planning software, Vermeer Australia has partnered with Australian trenchless specialists to help them deliver infrastructure projects of all sizes for over 30 years.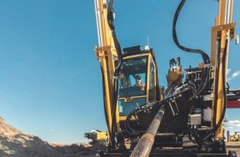 Partnerships with contractors, municipalities and utilities in the installation, maintenance and renewal of critical assets have spanned nation-building projects and encompassed a range of proven trenchless technologies:
HDD rigs, from 10,000lb through to pipeline-spec maxi-rigs.
Firestick® and Silver Series™ drill rod.
A range of proprietary tooling systems, including the Ultra X3 system for utility rigs.
Bore planning and telemetry software, such as the Vermeer BoreAid® design tool.
Drilling fluid mixing systems.
Vacuum excavators for trenchless excavation and drilling fluid management.
Drilling fluid reclaimers that can clean fluid on-site, reducing water and dumping costs and keeping the team productive all day.
Vermeer Australia's footprint and longstanding relationship with Vermeer Corporation means it offers robust product support. With significant holdings of parts, consumables, drill rod, tooling and wear items, dedicated technicians, and remote technical support, plus access to international product specialists, customers have the support for critical infrastructure projects. Vermeer Australia will be exhibiting at this year's No-Dig Down Under in Brisbane, where it will highlight three state-of-the-art services.
Vermeer BoreAid®
Vermeer takes HDD bore planning to the next level with its Vermeer BoreAid® design tool. Made to design advanced bore plans for HDD bores from a computer, Vermeer's software considers soil conditions, drill rod selection, drill pipe selection, product and machine type, and other parameters, all chosen by the user. The tool helps construct detailed plans with aspects such as load calculations, drilling fluid estimates based on industry services. And not only does it help save time by planning and designing the project effectively, it is able to produce construction submission documents efficiently.
The software also alerts the user to potential issues by using the built-in database of typical or suggested properties. BoreAid® provides the engineering estimates for required pullback forces to install the product pipe following industry standards. It can also identify the radius of the drill rod and product pipe to alert the user if either is outside of the specifications.
R500 Reclaimer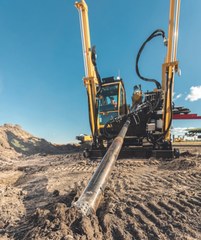 The R500 Reclaimer is the smallest reclaimer Vermeer offers. Also available as a skid and trailer version, the reclaimer weighs 2500kg with a height-adjustable hitch that can be towed by a van or truck. The skid is prepared for forklift use, and the trailer comes equipped with a height-adjustable surge brake to adapt to a variety of towing vehicles, as well as four heavy-duty pulldown jacks that assist with quick and convenient setup of the reclaimer. With no need to manually control valves, the R500's level switches in the reclaimer tank and remote level switch in the mixing tank prevent overflow in the fluid system set-up, reducing labour. To allow for easy access and ability to quickly change the screens, the primary screens are kept in place with an air-clamping system powered by an onboard air compressor. The machine has been built using high-quality, wear-resistant components to extend its durability, and the heavyweight shaker deck delivers stable performance under variable processing volume. A high-capacity 11kW (15 hp) pump is used for optimum circulation.
Vermeer Ultra X3 Drilling System
The Ultra X3 is designed with a non-torqued spline connection system, offering compatibility with a range of pilot bit and pullback configurations. It is designed to be versatile and delivers value and efficiency with the ability to swap out tooling quickly with two knock-out dowel pins, the capability of reaming directly from the transmitter housing, and the elimination of starter rods and adapters in certain applications.
The Ultra X3's spline connection system means tooling doesn't have to be threaded on, eliminating the need for breakout tongs to make and break torqued tooling connections. The housing uses a standard API rear connection and works with quick-connect systems like the Vermeer QuickFire® HD connection system.
The Ultra X3 is available in three sizes covering all HDD models rated up to the 40,000lb (177.9-kN) drill range:
Ultra X3 375 for HDDs in the 40,000lb (177.9-kN) drill range – Vermeer D40x55 S3 HDD or Ditch Witch JT40 HDD.
Ultra X3 325 for HDDs in the 24,000lb (106.8-kN) drill range – Vermeer D23x30 S3 HDD, D24x40 S3 HDD or Ditch Witch JT30 HDD.
Ultra X3 275 for HDDs in the 10,000lb (44.5-kN) drill range – Vermeer D10x15 S3 HDD or Ditch Witch JT10 HDD.