"Groundbreaking" Project Delivery Method Leads to New Brandenburg Wastewater Treatment Plant
An innovative project delivery approach by the city of Brandenburg in Meade County was the driving force behind a groundbreaking February 5, 2021 for an $8.3 million state-of-the-art wastewater treatment plant.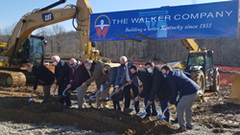 The new plant was deemed essential after the Nucor Corporation announced its plan to build a $1.7 billion steel plate manufacturing mill in an industrial park that includes Brandenburg's existing wastewater treatment plant. Even though government funds were scarce, Brandenburg had to move quickly. Luckily, a 2016 law (HB309) authorized local governments to take advantage of public-private partnerships (P3). The P3 delivery method allows private companies to participate more fully in local infrastructure projects, to include using private sector financing.
"Brandenburg had a serious need," said Mayor Ronnie Joyner. "We had to build a new wastewater treatment plant that could handle not only the present, but also the future needs of the city. We needed to explore all of our options to find the quickest and most cost-effective way to build this plant."
Brandenburg turned to law firm Frost Brown Todd (FBT) as their P3 consultants under FBT's Master Agreement with the Commonwealth. FBT helped guide the city throughout the process, to include issuing a P3 Request for Proposals (RFP) to design, build, and finance the plant, as well as receive other innovative solutions, negotiating the agreement, and facilitating the regulatory approval process with the Finance & Administration Cabinet, Department of Local Government, and Division of Water.
After a competitive procurement process, The Walker Company, a Kentucky-based design and construction firm, in partnership with GRW Engineers Inc. and WP3 Consulting, was selected as the design/build contractor, while Ross, Sinclaire & Associates (RSA) provided the necessary financing in partnership with Kentucky League of Cities Financial Services and the Kentucky Bond Corporation (KBC).
Because of the project's size, Kentucky's P3 law required the Kentucky Local Government P3 Board review and approve Brandenburg's P3 process and agreement. The P3 Board unanimously approved the project, the first it had considered since the Board's creation. In the end, a third-party study found Brandenburg's P3 approach will save the city upwards of $3.5 million in costs and a year in project delivery time.
"This approach had not been undertaken by a local government in Kentucky since the enabling legislation was passed," said FBT attorney Jason Halligan. "The traditional approach of going through state government for grants or loans adds months of waiting, as well as extra costs. We were able to help expedite the project at a significant savings."
"The approach used here also can be the model for other Kentucky communities who need to build or upgrade infrastructure facilities," said The Walker Company CEO Jake Schirmer. "I applaud the vision of the leaders of Brandenburg and Meade County for making this project become a reality."
Brandenburg and Meade County will each fund half of the project, with KBC issuing bonds for the construction project. "This project will be a huge boost for economic development here," added Meade County Judge Executive Leslie Stith. "The Nucor Corporation is already providing 400 new jobs here. This added treatment capacity is an asset as we recruit other companies to join us and increase opportunities for the people of Brandenburg and Meade County."
Private funding is an option more communities may take in the future. "There are many private sector capital sources looking for innovative projects in Kentucky in which to provide financing," added Schirmer. "We are extremely excited to be part of the first, and what we hope to be many, successful P3 developments in our Commonwealth."
Construction of the new wastewater treatment plant is expected to take 16 months and be operational by June 2022.
Contact
The Walker Company
Nancy Wiser
200 Apperson Heights, Suite 200
KY 40353 Mount Sterling
United States
Phone:
+1 859 227 8850
E-Mail:
info@thewalkercompany.com
Internet:
To website