Remote reading of conduits and pipes
CCTV has become an essential technology for utilities and local councils when pinpointing pipeline leaks, bursts, and other failure points. Drain Tech Australia boasts market-leading new technology and experience without the high price.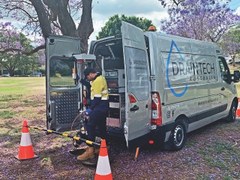 Drain Tech Australia is an industry leader in pipe management services and technology. It remains at the forefront of CCTV pipe and conduit surveying with innovative equipment, specialising in a vast array of pipe services, structural pipe inspections and the latest state-of-the-art technology. Drain Tech Australia utilises the latest Wincan software, which adheres to all council, industry and WSAA reporting codes and standards.
With its experienced and qualified team boasting decades of industry experience, Drain Tech Australia can complete any job safely within strict deadlines. It emphasises the importance of safety on our job sites and ensures the best industry practices.
Drain Tech Australia supplies its clients with a better and more cost-effective solution by implementing many different cost-saving initiatives throughout our business.
What products does Drain Tech Australia use?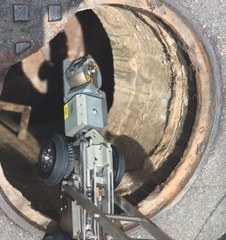 Drain Tech Australia uses state-of-the-art robotic Rausch CCTV cameras with robust pan and tilt technology. It allows them to thoroughly inspect any pipe's structural integrity and serviceability ranging from 100 mm to >2100 mm.
For smaller diameter pipes (50 mm-100 mm), Drain Tech Australia can utilise its remote battery-powered push camera inspection system. This remote system can be set up in even the most difficult-to-access places, for the top of a building, the middle of the bushland, or a factory or small office.
Steven Gall founded Drain Tech Australia 12 years ago. In his opinion, the industry needs to invest more in new equipment.
"No one was willing to put their hand in their pocket and invest in anything new. The cameras were getting tired and old. With technology moving so quickly, I put my hand in my pocket and decided to take everybody on," he says.
When talking about the Rausch CCTV cameras, Gall has found that Rausch is willing to invest in research and development to improve their cameras.
"Some companies out there have not changed their hardware in over 15 years," Gall says. "Rausch, on the other hand, has significantly improved their cameras. While our clients might not see that on-site, it allows us to do things that we otherwise would not be able to do."
Gall spoke about the technology available for small-diameter pipes. Most cameras sit centrally in the pipe and cannot adjust to the water levels within a pipe. However, the Rausch systems have an integrated lift, allowing the camera to move within the pipe and increasing the total field of view where necessary.
Working with Austeck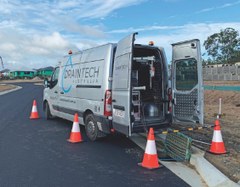 Drain Tech Australia has a long partnership with Austeck, a wholly Australian-owned company. Founded in 1992, Austeck has established itself as a market leader in confined space robotics. It is now one of the largest and most experienced supply and support companies for pipeline inspection and rehabilitation in the Australasian region.
"We have a great relationship with Austeck," says Gall. "We're on the same page regarding getting the Rausch products we need for the projects we are working on. As a company, we have not had any issues with trying to get stock in."
Future of the industry
When looking into the crystal ball, Gall believes that technology will need to find new ways to efficiently transmit large chunks of data.
"The increased quality of cameras is creating larger files. We need to move those files around, and while we live in a streaming world, it doesn't quite work like that when dealing with water authorities or local government. You might be able to download a large chunk of data in seconds on your home computer, but that is not the case when dealing with organisations with extensive processes for inserting data into their servers," he says.
While artificial intelligence (AI) is an emerging issue within the industry, it is not something that Gall is focusing on at this point. He acknowledges that it could eliminate much of the guesswork and inconsistent interpretation of information. However, working out how to interpret data is a skill in its own right, and doing so reliably will require significant resources.
"I've not heard of any council or water authority working on it. The systems are not flagging or seeking a review of something through a notification by AI, at least not from any council I know of. We must be aware of this technology and development, ready for it as an industry."