Comment: Putting sustainability at the heart of manufacturing
Companies who place sustainability at the centre of their business practises will be the ones who succeed in the future, says Vikram Nair, president – EMEA global head, Tech Mahindra.
by The Engineer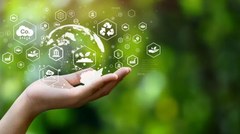 There has been a monumental shift in attitudes around sustainability over the past three decades. Corporate sustainability has moved from being an afterthought, to becoming a part of everyday corporate conversation. According to industry report, 80 per cent of CEOs believe it's likely companies will take significant new steps to take responsibility for the social and environmental impacts of their operations.
With some industries returning to pre-pandemic production levels, organisations now have a tremendous responsibility and opportunity to pivot towards a more sustainable business model. Environmental, social, and governance (ESG) ambitions are rising to the forefront of the decision-making criteria for both investors and buyers. Companies who place sustainability at the centre of their business practises, will be the ones who succeed in the future.
The manufacturing sector has made great strides in improving its ESG standing recently, but there is clearly more to do, particularly for organisations committed to net zero emissions. If significant and long-lasting change is to be made, a unified effort across sectors is needed, from sourcing and engineering to production and transportation. ESG policies have become increasingly vital to achieving financial success.
Here are a few ways that the manufacturing sector might fulfil its sustainability goals with technology.
Sustainability Powered by Technology
To achieve long term results, businesses must embrace a more robust framework supported by cutting-edge technology for a sustainable future. Manufacturers need to emphasise on retooling their value chains and modernising their business critical infrastructure.
Through data-led solutions leveraging digital technologies like the Internet of Things (IoT), artificial intelligence (AI), and industrial IoT (IIoT), enterprises can circumvent challenges and inefficiencies that continue to stifle business growth. Besides, manufacturers are increasingly relying on IT and cloud computing to host, store, and analyse real-time data, thereby enhancing business intelligence, management, and collaboration. While achieving the net-zero goal across the UK and Europe, manufacturers must embed ESG principles into their core strategy and maintain a balance between sustainability and overall business profitability. This can be achieved with the rise of complex technological transformations that are supported by various government initiatives in the UK.
Made Smarter Review report identified the opportunities for UK manufacturing from the adoption of industrial digital technology (IDT), including AI, digital twins, and industrial internet of things (IIoT). The review found that IDT can increase manufacturing productivity, add £455 billion GVA, reduce CO2 emissions by 4.5 per cent and create 175,000 new jobs over a decade.
Data management a key for sustainable future
AI, IoT, and AR (Augmented Reality) rely on constant data flows, which require a lot of computer power and energy. Moving from on-premises operations to the cloud is a significant step for IT leaders who want to boost their sustainability credentials. Cloud-based technology streamlines the collection and translation of raw data from various databases, such as Enterprise Resource Planning (ERPs). Organisations can then use a centralised system of records to report on their ESG credentials.
Decarbonised, maintainable operations are becoming a new source of competitive advantage for manufacturers. Today's climate crises make it more important than ever for every organisation, institutions, and governments to work together to achieve net-zero ambitions. The manufacturing sector must continue to push the boundaries of innovation to achieve a more sustainable future.
Making sustainable manufacturing a reality
As we all know, the manufacturing industry consumes a great deal of energy, and reducing energy consumption is important for reducing greenhouse gas emissions and mitigating climate change. This can be achieved through energy-efficient technologies and practices, such as low-energy lighting and heating, and the use of renewable energy sources.
Manufacturing companies must now focus on reducing their consumption of raw materials and energy and minimising waste generation. This can be achieved through implementing AI in the manufacturing sector. AI has the resources to significantly reduce the environmental impact of the manufacturing industry by optimising energy consumption, reducing waste, and supporting circular economy principles. For example, AI can be used to analyse data from production processes and identify opportunities to reduce waste, such as optimising raw material usage or identifying defective products before they are manufactured.
A variety of sectors can benefit from AI's virtually endless potential. Predictive maintenance, improved production planning, logistical optimisation, and improved product design are just a few examples. Manufacturers can then use these benefits to promote a more effective use of resources, minimise waste, and lower energy usage.
By implementing complementary technologies to AI and big data, the manufacturing sector can obtain extra environmental advantages. IoT can boost efficiency among operators, maintenance engineers, and employees while assisting with quality management concerns all giving manufactures the potential to help decrease in worldwide carbon emissions.
Smart packaging is another crucial area of sustainable manufacturing that is gaining traction. Lowering the environmental effect of packaging and reducing container dimensions to ease the burden of cold chain logistics and product storage, is one approach many manufacturers can consider. Digital leaflets or ePI (electronic product information), accessible directly from the medicine package by scanning a QR code or barcode on the package, offer a connection with patients' connection that a conventional model lacks. Based on Tech Mahindra's experience working with pharmaceutical businesses in the UK, removing e-leaflets from every medicine box could save 100 tonnes of forest land.
Overall, as we now see production and supply chains slowly make a return to pre-pandemic levels, the onus is now on manufacturers to deliver on their ESG pledges. There is every incentive to fully commit to a net-zero emissions future. We have seen impressive improvements in the manufacturing industry, but the demanding work doesn't stop there. We must keep working towards a sustainable future.
Contact
The Engineer - Mark Allen Group
Jon Excell
Editor & Publisher
St Jude's Church, Dulwich Road
SE24 0PB London
United Kingdom
Phone:
+44 (0) 20 80760575
E-Mail:
jon.excell@markallengroup.com
Internet:
To website