Cross Section Shapes and Dimensions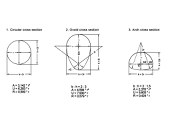 Sewers with the most varying cross sections and dimensions have been used since the beginning of modern sewage technology and some are still in use to this day.
The most important cross-sectional shapes are the circular, the normal ovoid and the normal arch cross sections (Image 1.4-1).
The circular cross section was and still is preferred in use because of its structural and hydraulic advantages in the nominal size range 100 ≤ DN/ID ≤ 500.
Since the development of reinforced and pre-stressed concrete technology, the progressive improvement of pipe manufacturing and pipe making, pre-finished pipes in circular cross section even up to DN 4000 have been used for main collectors.
DN is the abbreviation for nominal size. It is a characteristic size for circular cross sections measured in mm but without the explicit indication of the mm unit. It approximately corresponds to the internal diameter.
The normal ovoid cross section was used for the first time in 1846 in London and arrived in Germany about 1870 [Frühl10].
Hydraulically, it has particular advantages in the drainage of larger, erratic drain flows, e.g. for combined water sewers with small dry-weather flows.
Together with the arch cross section, it is designated by the axial dimensions of width (b) /height (h) in the millimetre sizes but without indication of the mm unit.
Ovoid cross sections have, and are still being used in the upside down position in order to lower the water level line, to improve the static effects or to make accessibility easier.
In the past years, this sewer cross section has experienced a renaissance because of its static and operational advantages as well as the reduced danger of depositing due to lower velocities. Connected with this are reduced waste emissions in wet weather and better handling of larger waste quantities in the sewage treatment plant in dry weather [White94a] [Braun93] [Sarto89].
Arch cross sections offer advantages for larger flows and restricted construction height. Although the hydraulic efficiency for partial filling is poor, yet the shape is statically advantageous because it approximates the course of the line of pressure.
In particular cases, e.g. in the building of holding sewers, rain holding basins or for defined location collecting points, rectangular cross sections with clear axial dimensions of about 800 mm have been, and are still used. The bottom is sloped laterally (Abschnitt 1.7.7).
Besides these regular cross sections, there is a further range of cross-sectional shapes and sizes (Image 1.4-2) (Image 1.4-3), which were also standardised in the past and are still used in individual cases (Abschnitt 1.7.7).
Cross−sectional
designation
System sketch
Nominal size DN or b⁄h to
DIN 4263
(07.47)
DIN 19540
(12.52 or
09.64)
DIN 4263
(07.77 or
04.91)
Circular cross
section
100
150
100
125
200
125
150
250
150
200
300
200
250
350
250
300
400
300
350
450
350
400
500
400
450
600
500
500
700
600
600
800
700
700
900
800
800
1000
900
900
1200
1000
1000
1400
1200
1200
1600
1400
1400
1800
1600
1600
2000
1800
1800
2200
2000
2000
2400
2200
2200
 
2400
2400
2600
2600
2800
2800
3000
3000
3200
 
3400
3600
3800
4000
Cross−sectional
designation
System sketch
Nominal size DN or b⁄h to
DIN 4263
(07.47)
DIN 19540
(12.52 or
09.64)
DIN 4263
(07.77 or
04.91)
Ovoid
cross
sections
1.
Extended
ovoid
cross
section
600⁄1050
 
 
700⁄1225
800⁄1400
900⁄1575
1000⁄1750
2.
Normal
ovoid
cross
section
500⁄750
500⁄750
500⁄750
600⁄900
600⁄900
600⁄900
700⁄1050
700⁄1050
700⁄1050
800⁄1200
800⁄1200
800⁄1200
900⁄1350
900⁄1350
900⁄1350
1000⁄1500
1000⁄1500
1000⁄1500
1200⁄1800
1200⁄1800
1200⁄1800
1400⁄2100
1400⁄2100
1400⁄2100
1600⁄2400
 
1600⁄2400
3.
Wide
ovoid
cross
section
1000⁄1250
 
1200⁄1500
1400⁄1750
1600⁄2000
1800⁄2250
2000⁄2500
2400⁄3000
4.
Squashed
ovoid
cross
section
1200⁄1200
1400⁄1400
1600⁄1600
1800⁄1800
2000⁄2000
2400⁄2400
2800⁄2800
3200⁄3200
Cross−sectional
designation
System sketch
Nominal size DN or b⁄h to
DIN 4263
(07.47)
DIN 19540
(12.52 or
09.64)
DIN 4263
(07.77 or
04.91)
Arch
cross
sections
1.
Extended
arch
cross
section
1200⁄1200
 
 
1400⁄1400
1600⁄1600
1800⁄1800
2000⁄2000
2400⁄2400
2800⁄2800
3200⁄3200
2.
Normal
arch
section
1600⁄1200
1600⁄1200
1600⁄1200
1800⁄1350
1800⁄1350
1800⁄1350
2000⁄1500
2000⁄1500
2000⁄1500
2400⁄1800
2400⁄1800
2400⁄1800
2800⁄2100
2800⁄2100
2800⁄2100
3200⁄2400
3200⁄2400
3200⁄2400
3600⁄2700
 
3600⁄2700
4000⁄3000
4000⁄3000
3.
Squashed
arch
cross
section
2000⁄1250
 
2400⁄1500
2800⁄1750
3200⁄2000
400⁄2500
A special cross section for the separate system of the town of Bromberg (today Bydgoszczy) in which the surface water is drained in the upper portion and wastewater in the lower portion, as well as the situation in the region of the special manhole, is shown in (Image 1.4-4).
The masonry sewers of the City of Hamburg are divided into the profile classes I to IV [Hambu79b] whose cross sectional shapes and dimensions can be seen from (Image 1.4-5) or (Table 1.4-1).
Important definitions within any sewers are the minimum sizes whereby guaranteeing the disposal also of coarser and more bulky materials and possibly the accessibility must be considered as relevant criteria.
As regards the first-named criteria, the following minimum dimensions were usual in the year 1910 [Frühl10] :
Berlin Circular cross section 270 mm (earlier 210 mm)
Hanover As Berlin
Leipzig Circular cross section DN 350
Stuttgart Circular cross section DN 300
Frankfurt/Main Circular cross section DN 300 or ovoid cross section 670/1000
Karlsruhe Ovoid cross section 400/600
Munich Circular cross section DN 300 or ovoid cross section 400/600
Today the following minimum nominal sizes are valid in the Federal Republic of Germany [ATV95b] :
Drain system DN 150
(for single houses also DN 125)
Laterals to street sewers DN 150
Wastewater sewers DN 200
Surface water drains DN 250
Combined water sewers DN 250
For operating purposes [ATVA118:1977] recommends, independently of the calculated total discharge, that the following minimum nominal sizes of
wastewater sewers DN 250
surface and combined water sewers DN 300
should not be reduced and to limit the minimum diameters to special cases.
An important argument in the determination of the minimum dimensions which carried more weight according to [Frühl10] for instance in France or Vienna up to 1910 than in Germany, was the requirement of accessibility "in order to be able to investigate the inside of the sewer and the house connections which entered into it."
The minimum cross section of 800/1100 in Vienna was too small for this purpose for Frühling [Frühl10]. He therefore recommended that only sewers with a minimum height of 1200 mm and larger should be classed as accessible.
The German "Safety Regulations for Working in Enclosed Spaces of Sewage Installations" [GUV176a] specify:
"Sewers with an ovoid profile of less than 100 cm height and those of circular cross section of less than 90 cm clear width should not be accessed. Exceptions should be made only with special permission and taking special safety precautions into account".
Works in the sense of these safety regulations, for example, are:
Inspection works such as testing, regular viewing and measuring;
Maintenance works such as cleaning, lubricating, additions, replacements and adjustments;
Renewal works such as repairs and replacements;
Alteration works;
Installation works.
Individual communities in the Federal Republic of Germany only permit these activities in pipelines > DN 1200.
The definition of Accessible Piping in connection with the trenchless construction method (Abschnitt 1.6.2), i.e. manned pipe jacking is contained in [ATVA125:1996].
Here, as a rule, an inside diameter of at least 1200 mm is required.
In exceptional cases, the inside diameter of the jacking pipe can be reduced to 1000 mm when
A drive section of a sewer of 80 m is not exceeded; and
A working pipe placed in front of it (inside diameter 1200 mm) of at least 2000 mm
length is available.
In sewer systems, the sewers are laid in stepped cross sectional dimensions. Examples of these types from the cities of Dresden and Berlin are shown in (Image 1.4-6) and (Image 1.4-7).