Selection of Process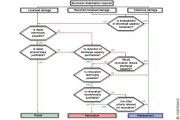 As description of damage, its extent and its cause as well as the piping-specific limiting conditions in sewer systems are so different, the correct selection of the respective application case and the applicable structural rehabilitation measures are of great importance [Stein89c] [Stein95f].
All repair, renovation and replacement processes have advantages and disadvantages as well as limitations for their application. There is no universal process that is technically and economically practicable in all cases.
Special problems are presented in renovation and replacement methods for non-man-accessible sewers in ensuring drainage capability (Abschnitt 5.5) as well as in the cutting and subsequent reconnection of the laterals. (Image 5.6.2-1) presents, in a simplified form, the necessary decision process for selecting the most suitable structural solution.
Decisive criteria, among others, are the extent of the damage, whereby a difference is made between locally limited, locally limited and repeated, and extensive damage, as well as the necessity of enlarging the discharge capacity, the possibility of a technical change, the economic efficiency of such a change and, finally, the decision whether the further operation of the affected section of the sewer or the network is necessary.
For reasons of economy, locally limited damage is repaired. Repeated and extensive damage at the same place in which a repair is no longer possible can be rehabilitated either by renovation or by replacement. If hydraulic overloading or a reduction in cross section caused by renovation measures cannot be accepted, then only replacement comes into question.
If renovation, in comparison with current building costs of the open cut method does not seem economically feasible, then other criteria for the choice of a renovation process can be decisive [ATVM143-1:1989] :
None or a small excavation;
Short construction time;
Reducing the traffic impairment and other indirect (intangible) costs (Abschnitt 5.7) ;
Crossing or parallel-running supply and discharge lines;
Plant growth or ground surface paving that should not be disturbed;
Prevention of groundwater lowering.