Standard specification book -LB 310 "Sanierung von Abwasserkanälen und -leitungen" (Rehabilitation of drains and sewers)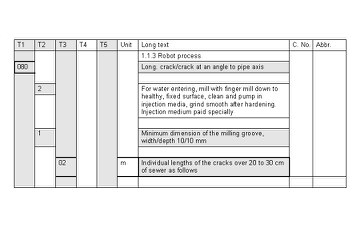 This specification section of the StLB [LB309] also limits itself to non-man-accessible drains and sewers. It comprises exclusively the process groups "Repair" and "Renovation".
The structure of the LB 310 is based on the idea that before its application, the selection of the process has already been carried out by the instructing party or a corresponding consultant.
In the current LB 310, with the condition that only sufficiently tested and utilised processes that have the correct references be used, the following rehabilitation processes are taken into account:
Injection process;
Fill and drain process;
Robot process;
Partial liners;
Lining processes;

Short pipe process;
Long pipe process;Lining with prefabricated, preformed pipes;
Spiral lining;
Grouted-in-place lining process;
Cured-in-place lining.
Besides these, there were also included the rehabilitation of manholes and subsidiary services such as calibrating, annular space grouting and leaktightness testing.
Replacement processes for drains and sewers have been described in LB 009 "Entwässerungskanalarbeiten" ("offene Bauweise") (Drainage sewer works (open cut method)) and LB 085 "Rohrvortrieb" ("grabenlos") (Pipe jacking (trenchless)). Site arrangements and security of construction sites and roads are included in the LB 000 "Baustelleneinrichtungen" (construction site arrangements), the disposal of construction water, etc., the instructing party of LB 396 "Abfallentsorgung und -beseitigung" (Waste disposal and removal).
A copy of LB 310 is given in (Image 5.6.4.3.5.6-1) for the service "Längsriß/Riß schräg zur Rohrachse verlaufend dichten" (sealing longitudinal crack/ crack at an angle to the pipe axis). The standard specification number is: StL-Nr. 310/080 21 02.