Standard specification book - LB 309: Cleaning and inspection of drains and sewers
Standard specification book - LB 309: "Reinigung und Inspektion von Abwasserkanälen und -leitungen" (Cleaning and inspection of drains and sewers)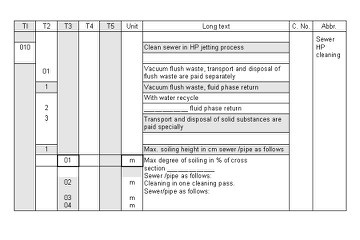 The LB 309 "Reinigung und Inspektion von Abwasserkanälen und -leitungen" is available in Germany.
The specification section of the StLB [ATVM143-3] limits itself to the non-man-accessible drains and sewers and is divided into the following part sections or services.
Cleaning;
Inspection;
Removal of flow obstacles;
Structural installations;
Documentation;
Other services;
Disposal;
Shortened description for repeated and changed services.
A copy of this is shown in (Image 5.6.4.3.5.5-1) for the service of "Abwasserkanal reinigen mit HD-Verfahren" (cleaning the sewer with the HP process). The standard service number (StL-No.) is StL-Nr. 96 309/010 11 01.