Replacement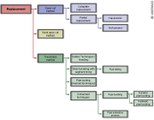 Under replacement, there is understood, according to EN 752-5 [DINEN752-5:1997], the construction of a new drain or sewer, on or off the line of an existing drain or sewer, the function of the new drain or sewer incorporating that of the old.
The replacement is always carried out at least in section lengths of the sewer using (Image 5.4.1-1) :
Furthermore, the replacement of the sewer is also possible with the aid of the utility tunnel. This special solution will be dealt with in more detail in (Abschnitt 5.4.4).
Replacement, according to ATV-M 143E Part 1 [ATVM143-1:1989] can be considered as an alternative to renovation for damage that occurs repeatedly and in which repair is no longer possible.
If a hydraulic overload or a reduction in cross sectional shape cannot be tolerated or if a larger hydraulic cross section is necessary, then the only solution left is replacement (Abschnitt 5.6.1) [ATVM143-1:1989].
As the replacement of drains and sewers in another line run is in principle comparable with laying a new pipe, this process by the open cut, semi open cut and trenchless methods will not be dealt with below. Reference for this is made to the comprehensive literature such as [Stein97b] [ATV95:1995] [Köhle91] [Stein88c] [Stein95e] [Stein85a] [Stein84b] [Stein96a] [Maidl84a] [Maidl95a]. In this case, the old sewer can be used under certain circumstances for the sewage flow during the structural period. After laying the new piping, all the laterals must be connected to it. In this case, however, a complex rehabilitation occurs, e.g. to include all the existing laterals into the replacement measures.
If, in the course of the construction work, the old sewer that has been taken out of sevice (Taking out of service: the planned interruption of functionality of a unit in question for an indeterminate period of time [DIN31051:1985]) is not removed, then it will present a potentially dangerous cavity in the pipe that must be secured, according to DIN 1986 Part 1 [DIN1986-1:1988] or that must be filled in according to ATV-A 139E [ATVA139b] as a rule. Here the later use of the sewer must be considered, i.e. in a possible later opening, the sewer must be able to be removed without too much effort.
According to the state of the technology at the present, the following filling measures are applied (Abschnitt 5.3.2.2.1).
Filling with special filling grout (e.g. Special grout with βD = 0.2 - 0.5 N/mm2) or air entrained lightweight concrete [Hoffm86] ;
Filling with flowing concrete (specially suited for smaller nominal sizes);
Flushing in with sand or gravel sand;
Blowing in gravel.
The filling should be as free from cavities as possible and should begin at the topmost manhole section of the sewer so that excess water can flow off. Sufficient filling and venting nozzles should be provided. When flowing material is utilised, larger sewer cross sections should, of necessity, be filled in two working steps, whereby, however, 80 - 90 % of the cavity is filled in the first step.
According to ATV-A 139E [ATVA139b], sewers that have been taken out of service but not removed must be kept in the network record and must be provided with a corresponding note on the type of the sealing or filling.