Final Work, Acceptance, Renovation Defects
Improper Installation of the Lining Tube
If damage occurs in the CIPP liner after curing, this is described in accordance with EN 13508-2 [EN13508-2:2011]. The main code "Lining observations (BAK)" differs from all other main codes in that in this particular case there is no longer a question of damage but of an OBSERVATION, although de facto many of the determinations undoubtedly represent damage with corresponding consequences. According to EN 13508-2 [EN13508-2:2011], the damage is characterised according to the type of observation.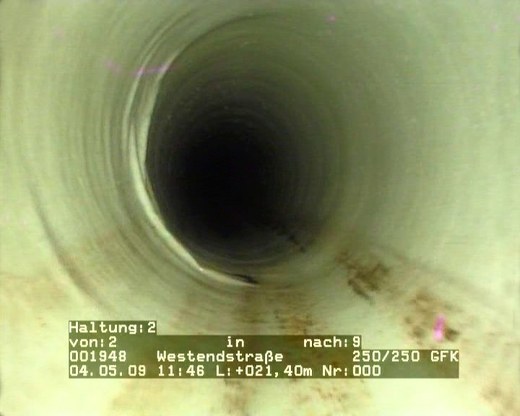 Lining observations (BAK):
The lining of the pipeline has become detached (A)
Discolouration of the lining (B)
Defective end of lining (C)
Wrinkled lining (folding) (D)
Blistered or internal bulge of lining (E)
External bulge (F)
Separation of the internal film/coating (G)
Separation of seam covering (H)
Crack or split (including weld failure) (I)
Hole in lining (J)
Lining connection defect (K)
Lining material seems to be soft (L)
Resin missing from laminate (M)
End of lining not sealed to host pipe or manhole (N)
Other lining methods.