Young Engineer of the Year
UK Society for Trenchless Technologies (UKSTT) Awards "Young Engineer of the Year" to Liam MacFarlane of Wessex Water Services Limited. "Holistic Approach to Infiltration and Inflow Exclusion" Highlights Electro Scan Project of Wessex Water's In-house Construction Arm, Wessex Engineering and Construction Services.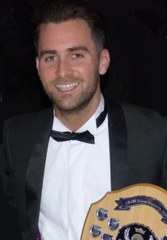 Electro Scan Inc. today announced that Mr. Liam MacFarlane, Critical Sewers Engineer, Wessex Engineering and Construction Services (WECS), Wessex Water's in-house construction arm, was selected as the 'Young Engineer of the Year' award recipient presented by the UK Society for Trenchless Technologies (UKSTT). The award was based on Liam MacFarlane's technical paper "Holistic Approach to Infiltration and Inflow Exclusion" highlighting an Electro Scan project.
The prestigious award was presented at UKSTT's 20th Annual Dinner & Awards Ceremony held in Birmingham, England in May 2014.
The "Young Engineer" award is presented to the engineer -- under 30 years of age -- who best demonstrates their contribution to the field of Trenchless Technology based on evidence of an understanding of Trenchless Technology, the individual's contribution made, the quality of submission, and the candidate's vision for the future of trenchless technology.
"I am proud to be selected for this distinguished award," states Liam MacFarlane, Critical Sewers Engineer. "I could not have achieved this honor without the help of the team at Wessex Water and Julian Britton, Rehabilitation Manager."
Liam MacFarlane joined Wessex Water in 2008 in the WECS trainee development programme, providing invaluable experience in all phase of project delivery, including optioneering, design, construction, commissioning, and handover. In 2010, Mr. MacFarlane was appointed Critical Sewers Engineer at Wessex Water, responsible for the project management and delivery of sewer renovation projects that specialize in trenchless installations. Mr. MacFarlane earned his Bachelor of Science (BSc) degree in Civil Engineering from the University of the West England in 2013.
"My involvement with Electro Scan started in 2013 with several kilometers of surveys in the Southwest of England," stated Liam MacFarlane. "We robustly trialed the Electro Scan technology identifying several improvements to the hardware and working closely with Electro Scan's onsite team."
Continued Liam MacFarlane, "Electro Scan was very successful in Mark, Somerset, England where forty-three (43) sewers were identified as the most critical assets with an infiltration rate of 12 litres per second (190.2 gallons per minute) or 1000m3 litres per day (273,900 gallons per day), costing the company over £120,000 ($180,000) per annum in operational expenditure."
"With the UK's Environmental Agency expectation to have every £1 cost of flood defense expenditure deliver £8 of benefit, all capital expenditures must bring best value," stated Mr. MacFarlane. "As seen in our Somerset trials during the recent winter flooding, we were able to document the comparative cost/benefit. Prior to using Electro Scan we didn't have the analytical tools to effectively use epoxy sealed CIPP, as CCTV surveys were inconclusive. With Electro Scan, I can now demonstrate to my clients a conservative cost/benefit of at least £10-15; especially in geological areas where groundwater-induced hydraulic lithology threatens the stability of adjacent buildings."
"We are honored to play a small part in Liam MacFarlane's success," commented Chuck Hansen, Chairman, Electro Scan. "We look forward to watching Mr. MacFarlane's leadership in using technology to accelerate the pace of change in the field of civil engineering."
During the last seven years, Wessex Water Services Limited has seen four of its engineers win the UKSTT's prestigious Young Engineer award. In addition to Liam MacFarlane's selection this year, previous Wessex Water award recipients included Alex Aulds (2012), Leanne Ford (2010), and James Kitching (2008).
Contact
Electro Scan Inc.
Janine Mullinix
1745 Markston Road
95825-4026 Sacramento, California
United States
Phone:
916-779-0660
E-Mail:
info@electroscan.com
Internet:
To website