WPL Technical Director joins BSI Wastewater Committee
WPL's technical director Andrew Baird has been accepted to the British Standards Institute (BSI) as a member of its committee on wastewater treatment plants. Baird will join as British Water's representative in Working Group 41, helping shape two British Standards (BS) that will also contribute to European Norms (EN).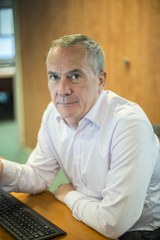 BS EN 12566-3:2016 is the standard for small wastewater treatment systems up to 50 population total (PT) and BS EN 12255 1-15 is a multi-document standard for wastewater treatment plants.
Lloyd Martin, British Water's chief executive said, "British Water is the UK's largest water industry trade association and always has a representative on the BSI committee for wastewater treatment. Andrew will take up the role of convenor of our thriving focus group for wastewater treatment plants serving up to 1,000 people next month and was an obvious choice to represent the organisation."
Andrew Baird said, "I'm delighted to join BSI as a committee member and to play a part in setting standards for wastewater treatment equipment in the UK and Europe. This is an especially important time to be involved with BSI - when we leave the European Union in March 2019 existing EU legislation will be copied across into domestic UK law.
"Going forward, we will need to work closely with our nearest neighbours and keep on top of any changes to ensure continuation of our strong trading links."
BSI is responsible for overseeing the development of UK national standards and representing the UK within European and international standards organisations. The Institute has 1,200 committees with some 10,900 expert members who all work voluntarily.
Andrew Baird has served in the roles of convenor and vice-convenor of British Water's Wastewater Treatment Plant Focus Group over the last four years. In that time the remit of the group's attention has widened to include plants up to 1,000-population and the membership has grown. He will take over as convenor again in April 2018.
The Focus Group has also worked closely with the Environment Agency, Scottish Environmental Protection Agency and Natural Resources Wales and lobbied at governmental level to improve package treatment plant industry standards. Building these relationships has enhanced the technical group's ability to promote best practice and input into continued improvements to the design, installation and maintenance of wastewater equipment.
Contact
WPL Ltd
Lianne Ayling
Marketing Manager
Unit 1 Aston Road
PO7 7UX Waterlooville, Hampshire
United Kingdom
Phone:
+44 2392 242 635
Fax:
+44 2392 242 600
E-Mail:
lianne.ayling@wpl.co.uk
Internet:
To website