WPL Leads on Health and Safety Standard
Wastewater treatment specialist WPL has made a rapid transition to the new health and safety standard set by the International Organization for Standardization (ISO). ISO 45001 Occupational Health & Safety standard was introduced in April 2018 and organisations are advised to transfer by March 2021 if they wish to retain a recognised certification.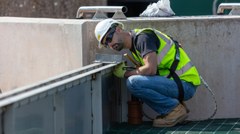 WPL's award was made in April 2019 and builds on the company's successful transition to the new 2015 standard ISO 9001 Quality Management and ISO 14001 Environmental Management in March 2018. The new health and safety standard replaces OHSAS 18001, a British standard from the Occupational Health & Safety Assessment Series that was recognised globally but is being phased out.
WPL operations manager Lee Thurston says, "Robust health and safety systems are vital for the wellbeing of our employees and our clients' peace of mind. WPL wanted to lead the way in transitioning quickly to ISO 45001. The gap between the two standards is not massive, but new tools, processes and procedures were required.
"WPL has successfully demonstrated that we are working towards a specific set of standards for health and safety and that risks are addressed, recorded and controlled. Our safety record is already excellent and last year we celebrated 1,000 days without any reportable incidents. We want to make absolutely sure that everyone goes home in exactly the same condition they arrived in the morning."
Through the company's health and safety committee, WPL has implemented near-miss recording of incidents. Workplace observations to identify and reinforce safe behaviours and eliminate any that are unsafe will be shortly introduced.
All documentation is hosted on a digital health and safety management platform and hard-copy forms for reporting incidents are also available to employees throughout WPL's operations.
"Health and safety is everybody's business and we are working hard to ensure all employees feel empowered to engage on best practice," says Thurston. "Having gone through the new ISO certification for the first time I am very impressed by the emphasis on the importance of continual improvement."
Contact
WPL Ltd
Lianne Ayling
Marketing Manager
Unit 1 Aston Road
Hampshire PO7 7UX Waterlooville
United States
Phone:
+44 2392 242 635
E-Mail:
lianne.ayling@wpl.co.uk
Internet:
To website