WPL lands three utility wastewater contracts
Work is underway on three UK utility framework contracts awarded to packaged wastewater treatment specialist WPL, two by United Utilities (UU) and one by Anglian Water.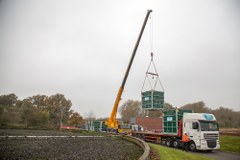 The project for United Utilities' Silloth wastewater treatment works (WwTW) on the Cumbrian coast involves installation of a 10,000 population equivalent plant comprising 20 WPL Hybrid-SAFTM (submerged aerated filter) units. A six-way flow-splitter, two large duty-standby blowers and two existing ST1000 steel SAF tanks complete the deal with UU's Tier 1 partner C2V+ - a joint venture between CH2M and VolkerStevin.
A similar project is underway at Anglian Water's Stanbridgeford WwTW in Luton, with the installation of 12 Hybrid-SAF treatment units which has been agreed with Barhale, part of Integrated Operational Solutions, Anglian Water's framework alliance.
The Hampshire company is also providing temporary onsite treatment during an upgrade to UU's Halton East WwTW in Lancaster. Replacement of the trickling filter means the existing system needs to be completely dismantled, so a temporary wastewater treatment system is required during the upgrade.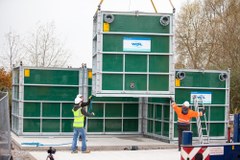 In addition, WPL will be providing permanent conical tanks to settle primary and humus effluent as part of the contract. The Advance alliance of MWH and Balfour Beatty is the main contractor for UU at Halton East and a separate contract was being tendered for four conical settlement tanks. WPL offered a competitive overall price for three WPL Hybrid-SAF units and conical tanks and won both contracts.
The contracts to provide wastewater treatment equipment at Stanbridgeford and Halton East WwTWs follow a tightening of the consent requirement by the Environment Agency. The extremely tight ammoniacal nitrogen consent of 1mg/l at Stanbridgeford is considered to be particularly challenging, but well within the capability of WPL's technology.
Andrew Haywood, industrial and utility sales manager at WPL said, "We are delighted to be winning substantial work in the highly-regulated UK utility sector and to build on our strong relationships with United Utilities and Anglian Water. We are seeing a significant increase in enquiries from water companies with similar requirements with regards to tightening consents and the need for flexibility.
"At WPL we design and manufacture our own treatment systems which means we lead the market in terms of the flexibility of package wastewater treatment equipment for purchase and hire. These contracts show the versatility of the mobile WPL Hybrid SAF units, which can be used for permanent installations or be transported to other sites for use once temporary works are complete."
C2V+ framework director Sean McCallion commented, "We are delighted to be the main contractor for the Silloth WwTW and look forward to working with United Utilities and WPL on another successful water project as part of the AMP6 framework."
Contact
WPL Limited
Units 1 Aston Road
PO7 7UX Waterlooville, Hampshire
United Kingdom
Phone:
+44 23 9224 2600
Fax:
+44 23 9224 2624
E-Mail:
enquiries@wpl.co.uk
Internet:
To website