World's largest tunnel boring machine accepted by the customers. The Herrenknecht Mega TBM will excavate a road tunnel in Madrid.
The Herrenknecht EPB Shield S-300 is the world's largest TBM with truly unique features in terms of engineering. To master the world's largest excavation diameter in challenging ground conditions, Herrenknecht engineers developed a so far unique cutting wheel concept especially for this project. It consists of a 7m-diameter central cutting wheel and an outer cutting wheel, located on the same level, with a maximum excavation diameter of 15.20m.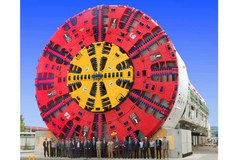 Two cutting wheels, three screw conveyors.
Both cutting wheels can be rotated independently in clockwise and anti-clockwise direction. For a controlled excavation of the ground and safe support of the tunnel face, three screw conveyors are integrated in the shield. Two large screw conveyors remove the ground of the outer cutting wheel to a conveyor belt in the rear. A smaller screw conveyor, installed in the bottom section, clears the area of the central cutting wheel and removes the excavated material to the rear.
The Mega TBM from Schwanau and its superlative dimensions breaks all records. The tunnelling giant weighs 4,364t. It has a thrust force of 316,000kN at 400bar. The S-300 is a real power machine with an installed torque of 125,268kNm. This would be enough to lift a fully loaded Boeing 747, weighing 410t, with a 30m long lever arm. The Mega TBM has the highest torque ever installed in a TBM. The tunnel boring machine is currently being disassembled in Schwanau, Germany.
The quicker, the better.
Two cargo ships wait to be loaded at the port of Kehl, Germany. They will transport the machine parts and segments to Spain. One cargo ship will go to Alicante situated on the Costa Blanca and the other to Bilbao in the Gulf of Biscaya. Even the logistical handling for the following road transport of the machine parts to Madrid is highly demanding. Site assembly of the giant is scheduled to start on August 1, 2005 in the launch shaft in downtown Madrid.
The M-30 Madrid project is a worldwide unique pioneering project in mechanized tunnelling. The inner diameter of the Spanish Mega tunnel is 13.45m, providing three lanes for the heavy-weight traffic in one direction as well as sidewalks on both sides of the tunnel tube. Overburdens of up to 75m above the tunnel alignment as well as pressures up to 6bar put man and the machine to the test. In fall 2005, the Herrenknecht Mega TBM is due to start excavation in the densely-populated metropolis. The tunnel will be opened for traffic in 2008 and to relieve the city center considerably.