Working At A Distance With U Moles Latest Developments In Suction Excavation Options
U Mole recently introduced to the UK market an MTS Suction Excavation option that extends the potential for the use of the equipment beyond that which is normally expected of the technology, the facility to perform at a distance from the main rig.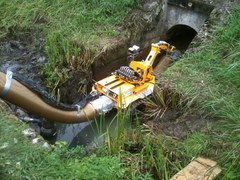 Working at distances of 50 to 100 m with MTS suction systems has been possible since the introduction of twin and quadruple fan systems. Typical applications have include basement works within existing buildings, removal of debris from inside large older buildings that are being refurbished, flat roof top works, deep culvert clearance, removal of soil from the tops underground reservoirs etc. This ability illustrates the flexibility of this type of suction equipment for not only safe utility excavation works but also for civils works, material removal and other similar circumstances where the access point of the works is at some distance from the nearest access point for the suction excavation vehicle.
To fully capitalise on the MTS equipments long distance suction abilities and to help in difficult access locations, U Mole/MTS now also offer the new 'Mooner' remote controlled system. This remote control wheeled or crawler mounted excavator is small enough for remote works in culverts and pipes, where there may be significant Health & Safety implications in respect of space availability for the workforce, or dangers from noxious fumes. Using the 'Mooner' system, material is broken up with the excavator bucket and moved to the front blade of the unit which has been designed with a suction inlet in the centre to allow the loosened material to travel up the suction hose and into the suction excavator unit which can be parked above ground or at the open or accessible end of the culvert/site being worked on.
In softer/looser materials the 'Mooner' can be used with a flexible suction nozzle fitted in place of the bucket which directly sucks up the materials. For harder materials the 'Mooner' also features a rotary front grinder system to break up hard materials prior to removal by the suction system. Allied with the facility to work at some distance from the unit as mentioned previously the 'Mooner' extends the operational parameters of the suction excavation option considerably.
Contact
U Mole
Hardwick Road
SG19 3BJ Great Gransden
United Kingdom
Phone:
+44 (0) 1767 677 503
Fax:
+44 (0) 1767 677 827
E-Mail:
info@umole.co.uk
Internet:
To website