Woolpert Welcomes Asset Infrastructure Consultant Doug Sinclair as Senior Program Director
Doug Sinclair has joined Woolpert as a senior program director who will support lifecycle asset management strategies and services for clients across public and private sectors. Sinclair has more than 33 years of experience working in the architecture, engineering and construction industry, with a focus on information technology and data collection, management and integration.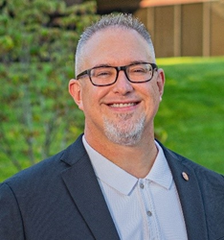 Throughout his career, Sinclair has excelled in many positions—from managing project controls and construction QA/QC activities to application development and defining software requirements. He also has experience leading marketing and sales initiatives. These roles have contributed to Sinclair's comprehensive view and understanding of lifecycle asset management and helped him develop and implement numerous innovative technology platforms that span the capital program and asset lifecycle.
These platforms support digital transformation initiatives throughout the lifecycle to maximize profit, reduce risk and improve lifecycle decision support for transportation, facility and utility infrastructure assets.
Sinclair also served 12 years in the U.S. Marine Corps and is active in the International Facility Managers Association, serving on the group's Information Technology Community Strategic Advisory Board.
With his move to Woolpert, Sinclair said he plans to contribute to the growth of a world-class asset management practice, with an emphasis on consulting and technologies that support the full asset lifecycle. These include capital programming, design and construction delivery, and commissioning, as well as operations and maintenance.
"I'm looking forward to helping and guiding our team and our clients as we improve the use of data throughout the lifecycle of assets, which is something that's sorely needed in the architecture, engineering and geospatial industries," Sinclair said. "I'm excited that I can work across the firm's business sectors and multiple markets to help them each be successful. Woolpert reinforces the benefits of data-driven asset management. That support for what I'm doing and what I care about means more to me than anything."
Woolpert Technology Services Market Director Jen Kouns said Sinclair's extensive background makes him an ideal candidate for a leadership role at Woolpert, since the firm works with clients to apply the latest technologies and innovative consulting to most efficiently manage infrastructure.
"A full lifecycle asset management practice takes into consideration not only geospatial work, but programming and planning, which help influence and impact the design process," Kouns said. "Doug has helped advance the use of innovative technologies to improve operations for multiple industries, and his expertise in the collection, aggregation and analysis of data align well with the firm's goals."
About Woolpert
Woolpert is committed to a vision to become the premier architecture, engineering, geospatial (AEG) and strategic consulting firm, and one of the best companies in the world. It's a vision we've been fine-tuning for decades.
It guides our decisions and investments, provides our clients with optimal solutions and offers our employees unrivaled opportunities. Woolpert is recognized as a Great Place to Work by its employees and is America's fastest-growing AEG firm. With more than a century of experience, close to 1,000 employees and 30 offices, Woolpert supports public, private, federal, and U.S. military clients nationally and around the globe.
Contact
Woolpert
4454 Idea Center Boulevard
OH 45430 Dayton
United States
Phone:
+1 937 531 1258
Internet:
To website