WinCan Web Dramatically Simplifies Online Sharing and Mapping of Sewer Inspection Data
WinCan Web Allows for Cloud-Based Data Delivery and Storage for CCTV Inspection Data.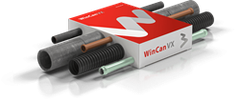 Sewer inspection reporting and asset management software developer WinCan has created a better way to share and map inspection data with a new cloud-based platform. WinCan Web allows users to upload inspection footage for secure viewing anywhere, instantaneously, from any device. With WinCan Web, once an inspection is complete, the operator simply uploads the project to be processed and published for authorized viewers. To view uploaded projects, a link can be sent by email, or an account can be created, giving authorized users access to a specific collection of projects.
Aside from the convenience of sharing data instantaneously online, WinCan Web offers other benefits. The biggest, aside from the speed WinCan Web allows for data sharing, is budgetary savings. Operating and securing a local server is a large expense and often unfeasible for smaller contractors and municipalities. Utilizing cloud-based data storage eliminates many IT costs, saving money which can be spent elsewhere. Cloud hosting also offers increased redundancy; data is replicated across multiple servers, preventing potential data loss and downtime due to server failure. Cloud hosting also has the added benefit of eliminating versioning problems. With data centralized in a single repository, only the most up-to-date, accurate data is accessible. "WinCan Web also has map capabilities that allow users to view a map of their sewer infrastructure and toggle effortlessly between map elements and the associated inspection data," says Russin, WinCan's USA Business Manager.
"So many other industries have realized the benefits of moving data to the cloud, and now the wastewater sector is following suit," says Martin Hien, General Manager of WinCan. "We already have the industry's most robust suite of sewer inspection reporting and asset management software. So, we turned our eye to making data sharing faster, easier and more secure. Now, municipalities and contractors can have immediate access to inspection data wherever and whenever they need it."
When sewer inspection software first appeared, data was presented and delivered through printed reports and video tape. Since then, CDs, DVDs, USB drives, FTP and email became the delivery method of choice. The downside of these methods is the necessity for manual delivery, which delays receipt and decision making. By contrast, WinCan Web makes delivery instantaneous.