WinCan Releases White Paper on the Benefits of Cloud-based Asset Management Software
"Sewer Asset Data Moves to the Cloud," a new white paper from WinCan, details the benefits of utilizing the cloud for sewer inspection data.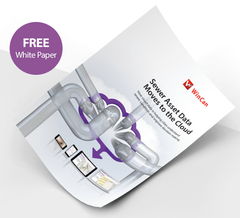 WinCan has released a new FREE white paper on the benefits of utilizing cloud-based sewer asset management. Cloud-based solutions have proliferated across industries as a way to increase efficiency and improve accessibility. This white paper details the biggest benefits cloud-based asset management software provides - accessibility, security, redundancy and version control - and why it can make sewer inspection and data management more efficient and effective.
"Utilizing cloud-based hosting for data and asset management is one of the best technological upgrades a municipality can make," says Mike Russin, Business Manager. "Cloud-based software makes it easier to access and share data while removing the burden of maintaining your own servers. You and your contractors can get the most up-to-date data from anywhere, and you don't need to be concerned with data breaches or loss."
This white paper was written as part of WinCan's commitment to both informing the industry of new technological developments and providing software utilizing those developments.
Contact
WinCan
Mike Russin
300 Cedar Ridge Drive, Suite 308
PA 15205 Pittsburgh
United States
Phone:
+1 (877) 626-8386
E-Mail:
mrussin@wincan.com
Internet:
To website