Weldco-Beales Reaches Across the Canadian Border to Partner with Radius Steel Fabrication
Sep 24, 2012
Construction site, general
Pipeline construction can be a dangerous industry. The most common cause of heavy equipment operators' occupational deaths is rollovers.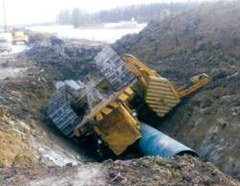 SOO Tractor, the U.S. based steel fabricator, announced that the company has been contracted to build Roll Over Protective Structure (ROPS) mounts designed for heavy equipment. The mounts are part of a ROPS designed to provide protection to the operator and equipment in the event of a rollover. Radius Steel is ISO certified and has the experience and capability to manufacture world-class products.
According to the Interstate Natural Gas Association of America (INGAA) Foundation, the second major source of occupational fatalities is machinery-based injuries. The most common cause of these heavy equipment operators' occupational deaths is rollovers.
Many of these rollover-related injuries and fatalities are prevented through the industries' simple implementation of roll over protective structures. However, there still remain many older generation low drive pipe layers operating without ROPS. These are the machines that Weldco-Beales Manufacturing primarily supplies and retrofits ROPS for. They have engineered, manufactured, and tested numerous Caterpillar and Komatsu pipe layers.
ROPS provide operator and machine protection in the event of a rollover. Weldco-Beales' ROPS comply with rigid standards through advanced engineering and manufacturing. The company's state of the art Structural Performance Test Stand is used to quantify their computer analysis, which determines the stress level of each section of the ROPS. ISO 3471 is the most predominant standard for off-highway machinery. It requires a side, vertical, and rear push test, and side-to-side energy absorption. All Weldco-Beales prototypes are destructive tested to ISO 3471:2008 in order to provide operators and machines with the highest quality security.
Weldco-Beales transforms steel into versatile attachments serving the construction, forestry, mining, and road maintenance industries. It's people, technology, and robotics forge customer efficiency, product durability, and operator safety. "We understand and take pride in the value we deliver to customers and the strength of partnerships we cultivate," says Nick Cindrich, Product Manager, for the Forestry and Oil and Gas Division. "We invite U.S. companies to visit our booth at the MINExpo International in Las Vegas on September 24-26th. People will be able to meet our team and learn firsthand the quality and design that is built into all our attachments."
Installing ROPS on machines shows a true commitment to safety. Although ROPS are not currently enforced on older generation low drive pipe layers, pipeline companies, contractors, and machine operators are demanding ROPS. Even if employees are well trained to prevent rollovers, accidents can still happen. Companies are protecting operators and machines in the case of an accident with ROPS, which additionally protects the company from the risk of serious lawsuits and expensive machine repairs.
Weldco-Beales is concerned about safety, which is why they place safe practices at the top of their priorities with both their manufacturing facilities and the final products they manufacture. At the end of the day they want everybody to get home safely.
Contact
Nick Cindrich

Weldco Beales Manufacturing

5770 Production Way

Langley, BC V3A 4N4

Canada

Tel +1 (604) 514-6706

http://www.weldco-beales.com/
Contact
Radius Steel Fabrication
Ida Covi
1400 W 1st St
51103 Sioux City, IA
United States
Phone:
+1 (712) 560-5290
Internet:
To website