Watts Sponsors Another Planet Water Clean Water Initiative
Watts Water Technologies, Inc. (NYSE: WTS) announced its sponsorship in building a water filtration system at the Luoxiang Center Primary School in Luoxiang Township, Jinxiu County, Laibin City, Guangxi Autonomous Region in southwestern China, as part of a Planet Water Foundation initiative designed to bring clean water to communities around the world. The tower was erected on September 29, 2016.

This is Watts' second project with Planet Water, a U.S.-based non-profit: the first was undertaken in Colombia in March 2016 as part of the worldwide Project 24 challenge.
A team of Watts volunteers erected an "AquaTower" at the Luoxiang school. The tower filters water to remove bacteria, protozoa, viruses, pathogens, and other contaminants to produce clean drinking water for a community of approximately 1,000 people. This "green" solution operates without power or the use of chemicals and can be easily maintained.
To ensure correct use of the new water source, the volunteers taught the teachers at the school water-health and hygiene lessons and did hygiene-related activities with the students.
According to Planet Water, one in 10 people globally lack access to clean water, and one in four people use a drinking water source with fecal contamination. The purpose of Planet Water's AquaTower is to provide a small community with easy access to clean water in an effort to save lives, especially the lives of children, who are more vulnerable to the effects of contaminated water.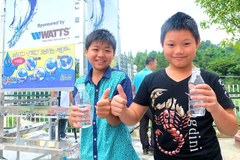 "Our company is delighted to be a sponsor of the Planet Water Foundation, and our volunteer team was excited to bring clean drinking water to this remote region of China," said Robert J. Pagano, Jr., Chief Executive Officer and President of Watts Water Technologies, Inc. "Our mission is to improve comfort, safety, and quality of life for people around the world through our expertise in water technologies. Central to this is helping people access clean, safe water."
To learn more about Planet Water Foundation, click here.
Contact
Watts Water Technologies, Inc.
815 Chestnut Street
01845-6098 North Andover
United States
Phone:
+1 978 688 1811
Fax:
+1 978 794 1848
Internet:
To website