Water Projects and Investment Asia
With a rich 5-year history of producing high quality, industry specific business events around the world, Middle East and Asia, Fleming Gulf Conferences is one of the leading names in business intelligence. Fleming Gulf proudly announces Water Projects & Investment Asia on 27th – 28th September 2011, in Hong Kong.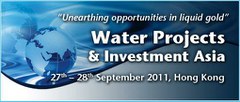 This event is a global platform for water solutions that brings policy makers, industry leaders, experts and practitioners together to address challenges, showcase technologies, discover opportunities and celebrate achievements in the water world.
The main focus of this event is to ravel the strategies of investing in the precious resources. It also highlights on taking fruitful steps to discover the on-going and up-coming water projects from and across Asia. Diversifying water investment to secondary sectors and comprehending the risk of water investment is the key area to be looked at. In terms of financial aspects, this event focuses on innovative ways to fund water projects and gauge the market potentials for water and waste treatment, reuse and desalination. Other focused area for this event is to observe the performance of water funds and apprehend the best utilization of resources.
Guest Of Honour:
Mr. Bobby Ng JP, Water Supplies Department Hong Kong, Assistant Director – Development will share his valuable ideas related to Water Security. Mr. Bobby Ng JP will elaborately highlight on armouring against water stress in security policy planning. This idea will boost up a concept of promoting greater regional cooperation.
Download Brochure:
This event will provide an excellent opportunity to meet and network with international erudite personnel of their key areas. Our Honourable and Distinguished panel of speakers will grace the event to enlighten on Water Project & Investments going from and in Asia.
The Panel of speakers will focus on how water infrastructure investment has performed in Asia. Investing in water infrastructure pre and post global financial crisis, inflationary and tariffs pressures, new funding vehicles and the debt market and the prospect of securitization of water sector are the varied areas to be elaborately discussed. There will be a session of Questions & Answers among Panel Members and participants.
If you would like to participate in this forum as a speaker, sponsor, attendee or partner, please contact Amirah Radzidin, amirah.radzidin@fleminggulf.com